Timber windows are installed at Cheltenham Ladies' College and an extension at Cambridge University features low-temperature underfloor heating in this week's education products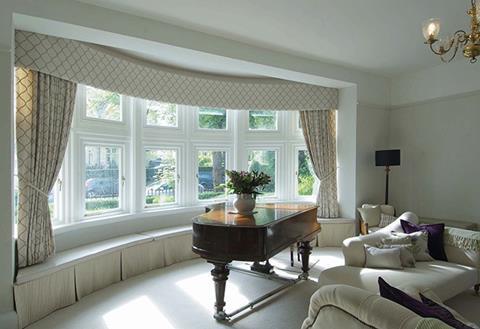 Timber windows
Period-style timber windows from the Mumford & Wood Conservation range have been installed in the thermal upgrade programme of St Margaret's junior girls' boarding house at Cheltenham Ladies' College. Mumford & Wood provided 80 casement and sash windows for the front elevation, with a further 250 being required for the remainder of the project. The company claims its windows were chosen as they are sympathetic to the architectural style of the building, with the college located in a conservation area.
Mumford & Wood
www.mumfordwood.com
Movers and Makers
Portakabin Hire, supplier of interim modular buildings, is seeing a rise in demand for primary and secondary teaching accommodation. In three years, there has been a growth of more than 170% in the division's education business across the UK. The company claims that more schools and local authorities are turning to interim teaching accommodation as this approach allows them to react quickly to peaks in the requirement for places, which can be difficult to predict.
BSRIA has announced the release of its third topic guide, this time on the subject of smart technology. The guide is aimed at those looking for introductory information about smart technology, including trends, smart products, the Internet of Things and recent developments. There is also guidance on the standard open protocols for intelligent buildings. TG09/2016 At a Glance – Smart Technology guide is now free to download from the BSRIA website at www.bsria.co.uk.
Armstrong has launched its A Book showcase for 2016. The 94-page annual brochure features new-build and renovation projects in the UK and around Europe, covering education. The 2016 A Book shows how Armstrong has delivered ceiling system solutions in a multitude of materials, shapes, colours and sizes for challenging applications in the retail, commercial, healthcare, education, transport and leisure sectors. The 2016 A Book can be downloaded from the Armstrong website at www.armstrong.co.uk.
Road safety specialist Heald have announced the launch of their new website. The new website has been designed with improved navigation and functionality, allowing customers to view details of Heald's products with ease. The latest news section features completed projects from the education, commercial and retail sectors.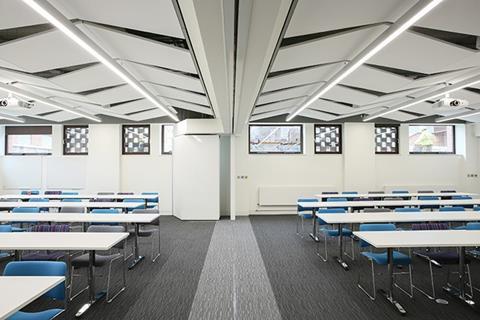 Movable walls
Partitioning specialist Style has designed and installed a combination of DORMA Moveo Comfortdrive and DORMA Variflex movable wall systems to a new teaching block and pavilion at Nottingham Trent University. Style was contracted to deliver flexible room configurations using movable wall systems that were essentially quick to manoeuvre into place. The company claimed its systems were chosen as they enable the lecturers to divide the teaching space, or open it up as required, which was vital as maximising available space was a key element of the project.
Style
www.style-partitions.co.uk
Heat pump
Johnson Controls, provider of solutions that increase energy efficiency in buildings, has launched the Sabroe HeatPAC HPX heat pump. The Sabroe HeatPAC produces hot water at temperatures up to 90°C, using any suitable source of low-temperature heat. The heat pumps feature a HPX hybrid compressor design that allows differential pressures as high as 40 bar and discharge pressures as high as 60 bar, combined with space-saving evaporator technology from the ChillPAC packaged ammonia chiller.
Johnson Controls
www.johnsoncontrols.co.uk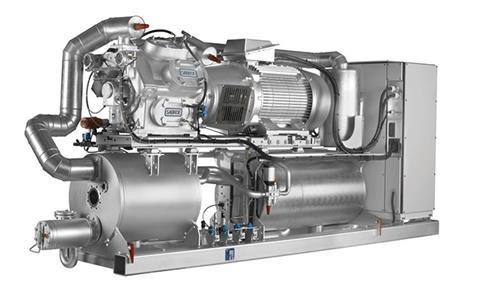 Drainage channels
Drainage product and access cover specialist Clark-Drain has added several new inspection chamber products to extend its 300 series of below-ground drainage systems for building and construction. Manufactured from recycled polypropylene, the 300 series will be sold as complete chamber assemblies to help streamline product sourcing for construction buyers and simplify stock management for merchants. The new range includes shallower chamber assemblies, which, the company claims, means less reliance on cutting down to size, resulting in less on-site waste.
Clark-Drain
www.clark-drain.com
Street furniture
Street furniture specialist Furnitubes has launched a new range of products – RailRoad. The new RailRoad range of seats, benches and tables has been designed to make the best use of small spaces. Based on a series of interchangeable straight and curved modules, and inspired by railways and model train sets, the range is designed to be joined together to create runs of continuous seating. The customisable nature of these products means that RailRoad has the ability to suit any public space, from housing developments, schools and hospitals to parks and streets.
Furnitubes
www.furnitubes.com
Underfloor heating
GAIA's low-temperature hot water (LTHW) underfloor heating system has been chosen to provide a heating solution for an extension at Cambridge University. The extension, designed to absorb growing student numbers, comprises 29 new luxury en-suite study bedrooms fitted with modular bathroom pods from Yorkshire firm Taplanes, and heated throughout with GAIA's LTHW system. The company said its product was chosen as the floors are concrete, meaning that the pipework could be embedded in the screed. Fed with hot water produced by three gas-fired boilers, the LTHW system is regulated with wireless controllers.
GAIA
www.gaia.co.uk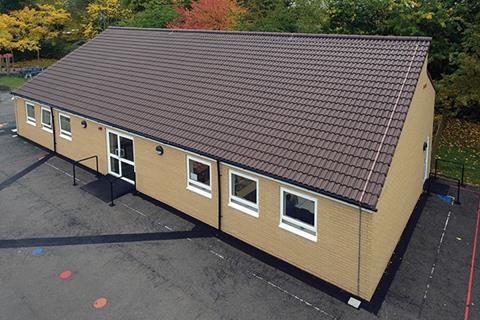 Roof tiles
Monier Redland's Regent tiles and components were selected for the second time by a primary school in Milton Keynes when they wanted to match the roof of an extension to the original building. During construction of the original school building, Redland's Regent tiles were used to adorn the roof. With that same roof tile still being produced decades later, the decision was made to use it for the extension. The company said its tiles were chosen as they are ideal for extensions, this is because they can be laid at pitches as low as 12.5-degrees as opposed to the common minimum pitch of 17.5-degrees.
Monier Redland
www.monier.co.uk