This week's residential products include aluminium rainwater products on a major regeneration project in Sheffield, and ready mix plaster for a 'superhome' that was showcased on Grand Designs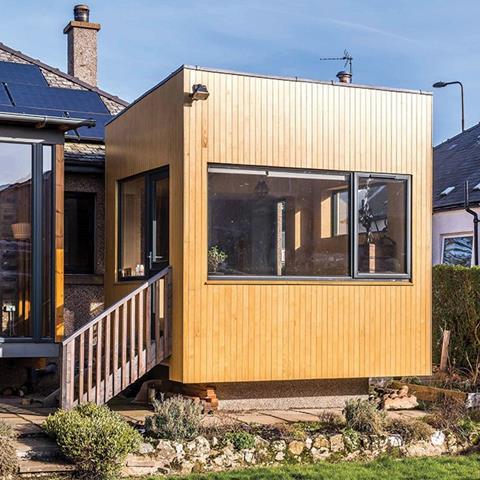 Modified wood
Accoya, the modified wood product manufactured by Accsys Technologies, has been used in the refurbishment of a sustainably re-modernised family home in Scotland. Originally a 1930s bungalow, the Edinburgh property was given a new lease of life after being extended using carbon friendly materials including Accoya. The company says Accoya was chosen due to its durability, as it is guaranteed against rot and decay for 50 years when used above ground and 25 years below ground.
Accoya
www.accoya.com
Movers and Makers
Eurowall+, the full-fill cavity wall product from PIR manufacturer Recticel Insulation, has been certified as a local authority building control (LABC) registered detail. Registered detail status ensures that products and systems are accepted by building control departments across England, Scotland and Wales, increasing confidence for inspectors on site when approving the use of new or innovative construction techniques.
Langford Direct has launched a new brochure on flexible flooring solution Trailflex. Information on areas such as installation, performance, maintenance and environmental benefits can be found in the brochure, along with the application areas for which Trailflex is suitable. Trailflex is a SUDS-compliant porous paving alternative to standard asphalt or tarmac created using recycled car tyres. The brochure can be viewed and downloaded from the company's website www.trailflex.co.uk
The NHBC Foundation has published a guide on using ventilation, heating and renewable energy systems for homeowners. The guidance has been developed for inclusion on the NHBC Home User Guide, a secure online portal for homeowners containing all of the information about their NHBC Buildmark warranty and insurance policy. The guide, entitled Home Comforts, looks at the operation and maintenance of ventilation, solar energy systems, heat pumps and heating controls.
The Structural Timber Association (STA) has published a timber frame estimating guide for quantity surveyors and those preparing construction budgets. The new estimating guide is designed to act as an authoritative source of information for quantity surveyors, providing costings for timber products and raising awareness of the fundamental benefits associated with using different types of timber.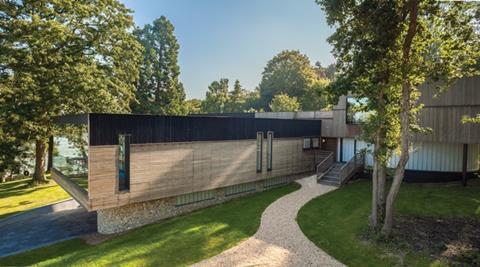 Plaster
Knauf has supplied its MP75 ready mix plaster for Fairways, the Isle of Wight "superhome" showcased in Grand Designs episode in September. The project involved building a luxury home to include as many smart features as possible. The company claims their product was chosen as the project faced tight deadlines and Knauf MP75 offers excellent productivity and is up to three times faster than traditional plastering methods. Knauf MP75 plaster is a one-coat plaster that provides a tough and smooth white surface ready to receive decoration.
Knauf
www.knauf.co.uk
Security systems
Digital solutions company Ingeny has introduced Ingeny@home, a new wire-free home automation and monitoring system. Ingeny@home uses Z-Wave wireless technology, which operates a "mesh network" that uses repeating signals to deliver a reliable solution throughout a building or property. The company claims that through the use of this technology Ingeny@home brings together domestic electrical systems and devices to help effectively manage and check lighting, heating, CCTV, smoke alarms and leak detection, as well as operating window blinds and multi-room audio solutions.
Ingeny
www.ingeny.co.uk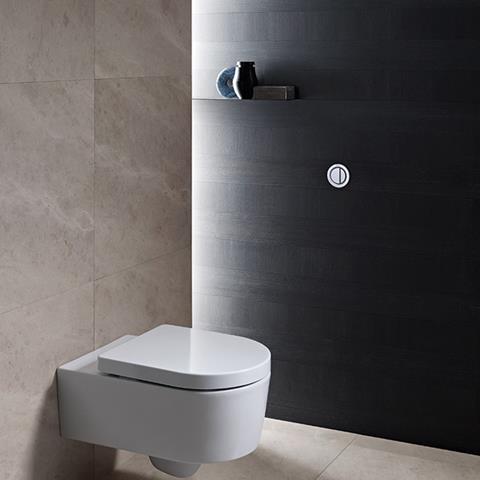 Remote flush buttons
Geberit has launched a new range of remote flush buttons. The Type 01 and Type 10 can be activated using a pneumatic mechanism meaning they do not need electricity. Geberit remote flush actuation Omega70 is no bigger than a smartphone and is activated using only slight pressure, with its servo lifter technology. The company claims as many as 30% of us would prefer to site the flush to the left or right of the WC, rather than directly behind it, which gives the Type 01 and Type 10 an advantage due to their flexible design options.
Geberit
www.geberit.co.uk
Heat recovery system
Ventilation systems manufacturer EnviroVent has announced the launch of the energiSava 200 heat recovery product, plus its augmented reality app Aug Vent. The energiSava 200 works by extracting moisture-laden air and resupplying clean, fresh air into a property to ensure a home is correctly ventilated at all times, controlling condensation and improving indoor air quality. The company said that due to its high performance heat recovery unit the energiSava 200 offers a neat and innovative solution for anyone building a new home to meet System 4 of Building Regulations Part F requirements.
Envirovent
www.envirovent.com
Visual alarms
Apollo Fire Detectors has added new visual alarm devices (VADs) to its range of products. The new VADs run on Apollo's existing XP95 and Discovery digital protocols. For ease of installation, these loop powered VADs are mounted on the ceiling and wall using Apollo's first fix base. The company claims that their extensive in-house testing facilities have enabled its engineers to make accurate simulations and perform real-world testing. The new VADs utilise a white flash colour, and are available in red and white body variants.
Apollo Fire
www.apollo-fire.co.uk
Insulated pipework
Flexenergy's Flexalen pre-insulated pipe work was selected for a new district heating network installed to service 164 new Barratt London homes being built on Camden Road in London. The properties comprise a mix of one, two, three and four-bedroom apartments The company claims the Flexalen pre-insulated pipe was chosen as it helped to speed up the installation process and allowed for a reduction in the amount of joints required.
Flexenergy
www.flexenergy.co.uk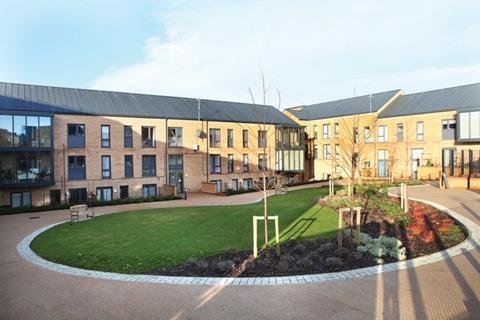 Rainwater products
As part of a major regeneration project in Sheffield, Marley Alutec's aluminium rainwater products have been used in a state-of-the-art housing development for over 55s. Set in Arbourthorne, Sheffield, the 52 specially designed apartments, arranged in two C-shaped blocks to create a sheltered central garden. Installed at the project were Marley Alutec's Evoke fascia and soffit system and Aligator Boxer 160 x 100mm guttering with flush-fit 76mm downpipes, all in anthracite grey colour RAL 7016. The company says their products were chosen as they matched the brief of creating a simple, clean aesthetic with their smooth lines and angular profile.
Marley Alutec
www.marleyalutec.co.uk