This week's regulations products include the installation of Taraflex flooring in a Stockport gym to match sports surface regulations, and ensuring that the Library of Birmingham meets watertight requirements
Watertight concrete system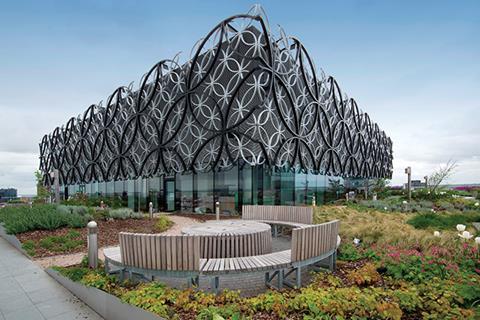 Sika's Watertight Concrete system has been specified for the basement shell and the terrace decks on the £188m Library of Birmingham. The 35,000m2 project is the largest public library in the UK and one of the largest public cultural spaces in Europe. The system was chosen for the project as it complies with BS 8103:2009 Grade 3 for habitable areas where no water penetration is acceptable. On the terraces, Sika Watertight Concrete system was used as a secondary defence should the waterproof decking above become damaged and allow water to penetrate.
Sika
Veneered doors
Vicaima have launched Hi-Line, a range of veneered doors designed to provide a consistent grain and colour. Vicaima state that the range can comply with a full range of performance and glazing specifications, including FD30 and FD60 fire rated, Secured by Design (SBD) and acoustic options. Vicaima's Hi-Line doors are available in a full spectrum of veneer options. Products can be supplied as doors only or as door and frame assemblies for a variety of installation options.
Vicaima
Fire resistant cables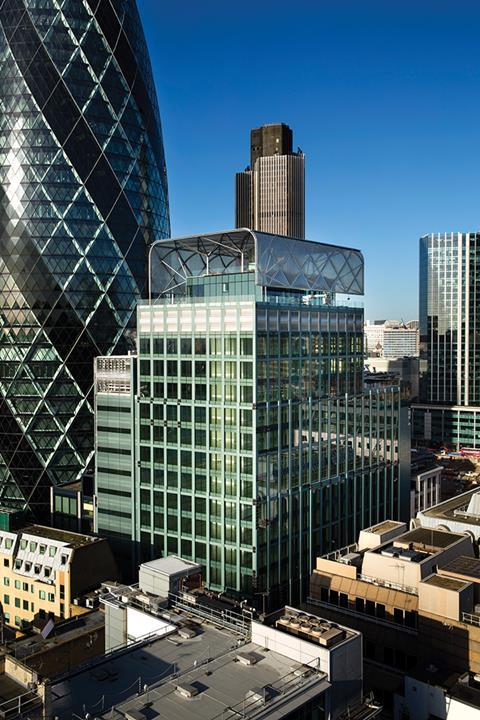 Prysmian FP PLUS has been selected and installed as part of the emergency building services throughout 6 Bevis Marks, London. The project offers 14,864 sq m of Grade A office space and has achieved an 'Excellent' BREEAM rating. Over 30,000 m of Prysmian FP PLUS has been commissioned for use in the emergency lighting and fire alarm systems. FP PLUS is a damage resistant, fire resistant cable that meets the requirements of BS 5839-1. The cable was chosen to ensure maximum fire safety in case of a fire.
Prysmian Cables & Systems
Drinking fountains
Franke Sissons, also known as Franke Washroom Systems, has launched a new range of drinking fountains for schools, colleges and commercial premises. Made in high-grade stainless steel, the company claims the fountains are easy to install, thanks to a wall-bracket fixing system. The new models join an existing range that includes chilled water options which are BREEAM compliant. Both models in the new range have a chlorine water filter that can be changed via an access panel which is also designed to provide protection against vandalism.
Franke Sissons
Automatic sliding doors
TORMAX have launched the new LR32THERM automatic sliding door profile. LR32THERM has a slim aluminium profile of 35mm while also providing a low thermal transmission co-efficient (Ud value). TORMAX says that these qualities can deliver the right aesthetics to create a contemporary entrance while also contributing towards reduced internal heating costs. LR32THERM meets the standards required by ENEV2009 as well as the safety standard DIN18650 and the new European equivalent EN16005.
TORMAX
Sports flooring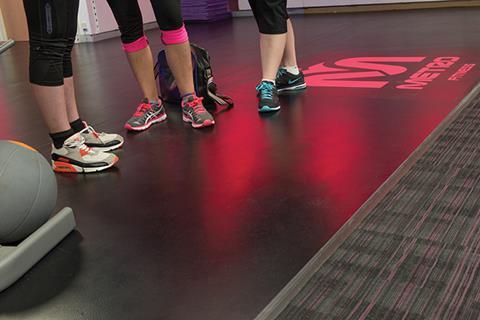 Metro Fitness has installed Gerflor Taraflex™ flooring at their Stockport gym complex. Gerflor says that their Taraflex™ Sport M Evolution flooring was chosen for the gym as product offers a P1 category shock absorbency which exceeds 25% and meets the EN 14904 Standard for indoor sports surfaces. Taraflex™ also meets the EN Standard of 22196 for anti-bacterial activity (E. coli - S. aureus - MRSA) (3) returning >99% levels of growth inhibition. Taraflex™ is available in 17 colours and two wood-effect designs.
Gerflor
Insulation boards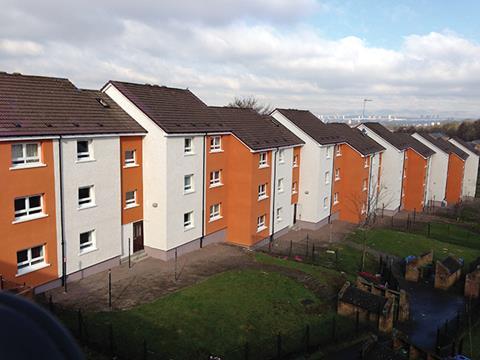 Thenue Housing Association has refurbished a series of three-storey flats in Castlemilk, Glasgow with Celotex SW3000 PIR boards. The board were chosen to insulate 138 properties in order to bring them up to the latest performance standards. The insulation specification had to contribute to an improved U-value of 0.3W/m2K to achieve SHQS 2015 compliance. To meet the thermal performance requirements and installation
programme, specialist contractor Alumasc applied 6,000m2 of Celotex SW3000. Supplied in a thickness of 80mm to achieve the target U-value of 0.3W/m2K, Alumasc installed the boards and a dry dash and Silkolit
finish to the project.
Celotex
MOVERS AND MAKERS
Kingspan Insulation has launched the ninth edition of its guide to insulating roofs, walls and floors. It includes details of the company's Kooltherm and Therma insulation products and it's Optim-R range which is suitable for applications where space is limited. The guide contains 25 refurbishment case studies including recommended products, installation information and illustrated fixing details. The guide can be downloaded from www.kingspaninsulation.co.uk/quickguides or ordered as a hard copy from Kingspan Insulation.

The Actis Hybrid range has been granted "Registered Details" by the LABC meaning the products can be accepted instantly by all LABC building control surveyors in local authorities across England and Wales. The three Hybrid solutions comply with revised Part L regulations and can achieve the U-value requirements, meeting or exceeding current building regulations in roofs, walls, floors and ceilings. The CE marked Actis Hybrid range includes insulation material, Hybris, a vapour control layer with built-in thermal performance, HControl Hybrid, and an insulating breather membrane, Boost'R Hybrid.

GRP building product manufacturer Stormking have been awarded a BBA certificate for their brick slip finish SmartStack false chimneys. The new range of brick-slip finished chimneys joins the existing SmartStack range of GRP chimneys with brick or render effect finishes. The BBA award gives the SmartStack brick-slip finished chimneys a 30-year certificate having met the standards required by the BBA, involving laboratory testing, on-site evaluations and inspection of production. They can be supplied with or without pots and in a variety of standard sizes, and to order for bespoke applications, alternative roof pitches and twin-wall gas flue.