Hospitals and healthcare facilities make very particular demands of products specified in their buildings. And it seems that spurs manufacturers to innovate and improve all the more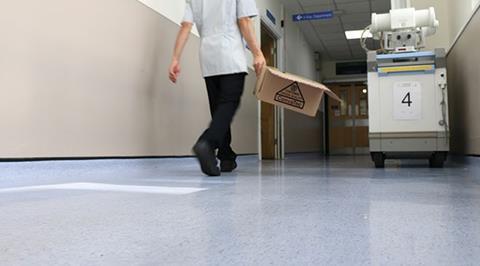 Wall cladding
Altro has expanded its range of wall cladding with the introduction of new Altro Fortis – a system that provides protection for walls, doors and corners. Altro Fortis can deliver long-term protection where high levels of impact are expected, such as school classrooms and corridors, non-clinical areas in healthcare, retail, and any busy public and service areas. Altro Fortis Titanium is a 2.5mm, uPVC semi-rigid sheet. It features a lightly textured surface, which camouflages and deflects scuffs. The product comes in a large 3m x 1.22m sheet.
Altro
www.altro.co.uk
Movers and Makers
A new edition of CIBSE Guide A, which provides guidance on the environmental design of buildings, has been published by the Chartered Institution of Building Services Engineers (CIBSE). The new edition of the guide includes the latest guidance on design for high-quality building environments design, which CIBSE says enables engineers to design comfortable, environmentally sustainable buildings. www.cibse.org
Ronacrete has produced a set of sample cases that contractors can use to display a range of resin bound, resin bonded or tree pit systems to potential clients. Ronacrete resin based paving systems can be used to enhance the appearance of paths around hospitals, sporting venues, museums, office blocks, schools and colleges. Both products are UV stable and can be laid from a minimum depth of 15mm. The permeable paving system created by the resin and aggregate mix is SuDS compliant when laid on a suitable base. www.ronacrete.co.uk
The BSI has updated its updated three of its geotechnical standards to bring these in line with European norms. BS 8081 "Code of practice for grouted anchors" has been updated to conform with Eurocode 7 and also includes information and recommendations relevant to UK practice. It works alongside BS 8004 "Code of practice for foundations" and BS 8002 "Code of practice for earth retaining structures".
Forbo flooring systems has redesigned its website at www.forbo-flooring.co.uk to make it easier to navigate. A product finder has been added which helps users decide on the appropriate floor covering for their needs. The room planner has been enhanced so users can now visualise several product range combinations. The site also includes case studies, YouTube guides and downloadable brochures.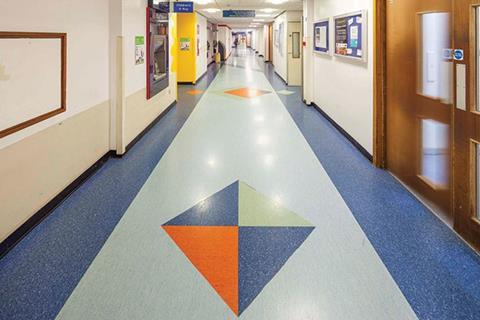 Hospital flooring
Tarkett iQ Optima and iQ Eminent vinyl flooring were specified for the refurbishment of the main entrance floor at the University Hospital of Southampton. The products were chosen as they do not require waxing or polishing, which the company says makes them suitable for high traffic levels that typically require more intensive and frequent cleaning. The iQ collection is 100% recyclable and features VOC emissions below quantifiable level, providing less than 10μg/m3 TVOC after 28 days.
Tarkett
www.tarkett.co.uk
Bed linen
ArjoHuntleigh has added a new product to their lateral transfer product portfolio. The new Maxi Transfer Sheet is a bed linen said to have the strength of a sling. The transfer sheet is made of breathable and heat-transporting microfibers. The company says the sheet is especially suitable for pressure ulcer management on active therapy mattresses and is designed entirely from a bed linen perspective with the comfort of the patient in mind. Combined with an ArjoHuntleigh ceiling or mobile lifting solution, the Maxi Transfer Sheet can help reduce heavy manual patient handling tasks.
ArjoHuntleigh
www.arjohuntleigh.co.uk
Adhesive backing
Nora systems has added an adhesive backing to its range of Noraplan floorcoverings to speed up installation. Called nora nTx, the company said the product was suitable for all conventional subsurfaces and on fitted floorings. The flooring can be walked on and cleaned immediately after installation. The Noraplan floorings feature a rubber-based adhesive under a protective film that is peeled off prior to installation. The old floorings need only be slightly roughened and primed, so there is very little dust and dirt during the installation, which can be an advantage for renovation during ongoing operations in hospitals or day units.
Nora
www.nora.com
Hot and cold water system
The design team at Rotterdam's Maasstad hospital worked with Wavin to minimise the risk of water-borne bacteria during the specification of a high-performance hot and cold water system. Wavin'sTigris K1, a press-fit plumbing system designed for potable water, sanitary and heating applications, was chosen. The Tigris K1 System is available in a range of dimensions from 16 to 63mm and has specific adaptors for other systems such as Hep2O and copper. The system comprises multilayer composite pipe with high performance plastic polyphenylsulphone (PPSU) fittings, offering resistance to high temperatures, corrosion and stress cracking.
Wavin
www.wavin.com
Antimicrobial copper taps
Pegler Yorkshire has installed a range of Antimicrobial Copper Taps at Lincolnshire's Pilgrim hospital as part of an initiative to promote the use of antimicrobial copper in healthcare establishments. The product was chosen due to its capability to continuously kill pathogenic microbes, even in between cleans. Studies into the effectiveness of copper show over 80% less contamination on copper surfaces than non-copper equivalents, and the hospital believes that replacing the current surfaces most often touched by staff, patients and visitors with antimicrobial copper equivalents will help reduce the number of healthcare associated infections.
Pegler Yorkshire
www.pegleryorkshire.co.uk
Suspension systems
A variety of Armstrong ceiling systems have been used for the new South Glasgow University hospital and Royal Hospital for Children. Armstrong supplied 70,000 linear metres of the Drywall Grid System for use with plasterboard, 12,000 linear metres of Axiom plasterboard-to-tile transition trims in corridors leading off a central atrium, 10,000 linear metres of Axiom profiles and 40,000 accessories including connecting brackets, clips and hanging brackets. The products were chosen to help with ceiling level changes, floating ceiling construction and lighting integration.
Armstrong
www.armstrong.co.uk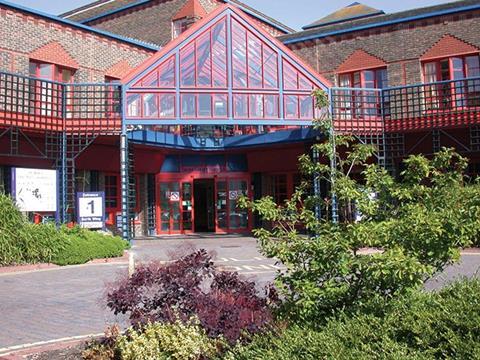 I-message communications
Multitone has supplied Dorset County Hospital NHS Foundation Trust with its i-Message integrated communications system. The solution provides a centralised communications hub that uses the localised wireless network, offers an automatic switchover in the event of a fault and allows for integration of mobile smart devices. The Trust says it wanted to take advantage of using a unified communications platform, moving away from people carrying around multiple devices to just carrying one device that manages all communications and integrates communications between the Trust's sites in Dorchester and Weymouth.
Multitone
www.multitone.com