This week's residential products include timber sliding sash windows for Alain de Botton's A House in Essex project, and an external wall insulation that better suits the Georgian and Victorian brickwork often found in northern cities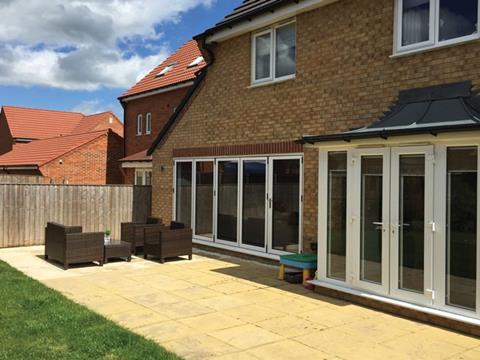 Bi-folding doors
HWL Windows Group has supplied bi-folding doors for a newly extended five-bedroom detached property in Wath-upon-Dearne near Rotherham. A total of five bi-folding doors spanning 4.3m were selected for the home to help maximise the living area and help link the interior to the outside. The company says one of the main reasons its doors were chosen is for cost savings, as they offer a high level of thermal performance, achieving a u-value of 1.8 W/m2K that meets all Part L requirements.
HWL Windows
www.hwlwindows.co.uk
Movers and Makers
Mumford & Wood has invested in the company's manufacturing facility at Tiptree, Essex. The company says the investment in the computer-controlled plant and machinery has enabled it to replace a great deal of the manual work on more straightforward products, thus allowing its craftsmen and women to channel their efforts to more skilled work. The company marked the occasion at a special reception with guest of honour Priti Patel MP, minister of state for employment, who formally opened the extended facility.
Lomax + Wood, the Essex-based designer and supplier of high performance timber windows and doors, has announced it has received Forest Stewardship Council Chain of Custody certification FSC C126169 in compliance with BM TRADA. This certification ensures that the company's made-to-order timber windows and doors originate from responsibly sourced forests. It is independently certified by BM TRADA which is ASI accredited to ensure that the material is traced through every stage of the process from forest to end-user.
Spectus Window Systems has launched its latest edition specification guide – version 7. The guide outlines Spectus' specification and technical support service, which includes no-obligation consultation, specification support, assistance with site surveys and advising on Building Regulations.
BSI, the business standards company has revised BS 7273-4:2015 Code of Practice for the operation of fire protection measures – Part 4: Actuation of release mechanisms for doors. It was developed using collaborative input from the fire and safety industry with organisations such as The Fire Industry Association, Fire Protection Association and National Landlords Association offering guidance.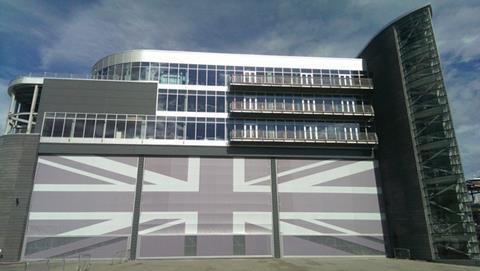 Solar control glass
Glass manufacturer Pilkington UK has supplied glass for the Land Rover BAR headquarters, in Portsmouth. Two different specifications of glass were used in the project, one for the areas of glazing exposed to direct sunlight and another for windows sitting behind the semi-transparent fabric skin that will surround much of the building, evoking the sails of a racing yacht. The building will feature a number of other sustainability enhancing features, including an on-site solar PV system that is expected to provide a large percentage of the team's electricity requirements.
Pilkington
www.pilkington.co.uk
Folding doors
PC Henderson, designer and manufacturer of sliding door hardware, has enhanced its Securefold exterior folding door range with the addition of a new heavier weight category product. Suitable for timber or aluminium door panels, the new hardware has been tested to 150kg and is designed for both residential and commercial external outward opening door applications. All components in the Securefold range undergo extensive cycle testing in accordance with best practice guide for hardware BS EN 1527, achieving in excess of 100,000 cycles.
PC Henderson
www.pchenderson.com
Casement window
Profile 22 has aided the £4.5m regeneration of 70 flats at Stonelow Green in Dronfield, supplying a casement window solution through its approved window contractor, Polar Windows. A 50/50 split casement window with a vertical mullion and push-out window was selected to replace the existing tilt and turn windows.The company said its product was chosen as it helped eradicate cold spots within the building, and worked with the external wall insulation to improve the thermal performance of the blocks.
Profile 22
www.profile22.co.uk
Automatic sliding door
DORMA has added the ST FLEX secure automatic sliding door to its FLEX range. Alongside the ST FLEX and ST FLEX Green models, the products in this range are designed to form a visibly appealing door system, with a number of solutions available to suit customers' needs. Tested to burglary resistance class 2, the doors use laminated safety glass with a secure four-point locking device at the main closing edge. DORMA's entire range of automatic doors is designed for full compatibility with its CODIC MasterCard and MATRIX Professional Access Control solutions.
Dorma
www.dorma.com
Swing door operators
TORMAX has launched two swing door operators. The TORMAX 1102 operator replaces the 1101 while the 1201 is a new addition to the range. The drives can be used in power-assisted (power-assisted manual door opening), low-energy (without safety features) and full-power applications (with safety features) for automating external and internal doors, fire exits and escape routes, and doors with disabled access. The company says the 1102 and 1201 can contribute to greater cost efficiency through being modular by design.
TORMAX
www.tormax.co.uk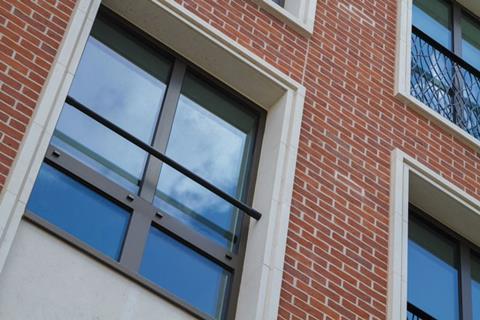 Casement windows
Aluminium systems specialist Hueck has supplied doors and windows from their Lambda range for the Cheyne Terrace residential development in Chelsea. The project comprises 26 apartments, including a penthouse and nine duplexes, as well as 16 lateral flats, in one of the most desirable areas of London. With a frame u-value as low as 1.0 W/m²K for the windows, and 1.6 W/m²K for the doors sets, the company says the Lambda range met all the performance requirements for this project.
Hueck
www.hueck.com