This week's residential products include timber sliding sash windows for Alain de Botton's A House in Essex project, and an external wall insulation that better suits the Georgian and Victorian brickwork often found in northern cities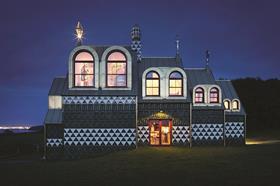 Timber windows and doors
Traditional timber sliding sash windows, casements and French doorsets from the Conservation range by Mumford & Wood were specified for A House for Essex as part of Alain de Botton's series of rentable holiday homes. The products were chosen to complement the existing individual design. The made-to-order timber Conservation products featured Victorian-style sash windows, with spring balance operation, which were adorned with fixed curved semi-circular fanlights. All products were finished in purple red, RAL 3004, with a single doorset supplied in yellow. Conservation windows and doors are made from engineered timber.
Mumford & Wood
www.mumfordwood.com
E4 brick house concept
Knauf Insulation products have helped to build the Wienerberger e4 brick house concept, which addressed the need for affordable, sustainable housing in the UK. The company supplied cavity wall insulation, Earthwool DriTherm 32, and its Earthwool Loft Roll 44 insulation, which they say achieves a U-value of 0.18W/m2K. The roof was also insulated with Earthwool Loft Roll 44 at ceiling level to give a U-value of 0.12W/m2K. Earthwool Loft Roll 44 is manufactured in a range of thicknesses and has combi-cut perforations which can be used between 400mm or 600mm ceiling joists.
Knauf Insulation
www.knaufinsulation.co.uk
Flush-fit downpipe range
Alutec has launched a number of new sizes within its flush-fit range of downpipes in response to customer demand for greater variety. Designed to offer options for a range of properties, the additions build on existing 76mm circular and 72mm x 72mm square options. Options now include a 63mm circular design. 102mm circular and 102mm x 76mm and 102mm x 102mm square varieties. Available in 21 standard colours, the flush-fit downpipes are compatible with Alutec's Evolve and Aligator aluminium guttering systems and are manufactured from marine-grade aluminium.
Alutec
www.marleyalutec.co.uk
Windows and doors
Black Millwork's windows and doors were specified to convert a family home in Berkshire, increasing the property size by 4,000ft2. The fenestration was chosen to ensure the design of the windows and doors fitted in with the existing finish. The project used 32 of Black Millwork's flush casement windows finished in RAL white 9010, providing thermal efficiency achieving a U-value of 1.4 W/m2K. Four of Black Millwork's French doors and three of its bi-fold doors were also fitted. The firm says all the doors achieve a minimum U-value of 1.5 W/m2K.
Black Millwork
www.blackmillwork.co.uk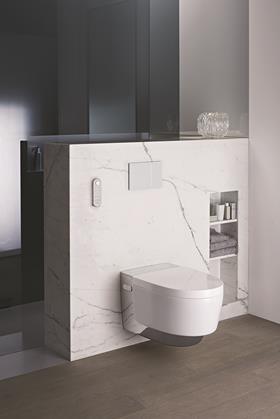 Shower toilet system
Geberit has launched a new shower toilet system called AquaClean Mera. The product features a proximity sensor enabling the WC lid to open and the seat to warm automatically on approach. The system has two nozzles to provide a targeted clean with water at body temperature, and a drying function, with the airflow temperature gradually reducing as the skin is dried. AquaClean Mera is operated with a remote control, which has four storable user profiles to suit individual cleaning and drying preferences.
Geberit
www.geberit-aquaclean.co.uk
Metal-based sinks
CD UK, the UK distributor of solid surface material DuPont Corian, has launched a range of seven sinks featuring a stainless steel base. The company said the metal base made the product suitable for use with hot containers and boiling water taps. The sinks are made with 12mm-thick Corian walls with double-sided reinforcing strips to maximise strength where the material is jointed. The sinks include a sound elimination coating and built-in overflow. The seven sinks are available in a range of sizes and shapes and three variations of white as stock. The company said it was planning further additions to the range later this year.
CD UK
www.cdukltd.co.uk
External wall insulation system
Saint-Gobain Weber has introduced a new colour to its brick-effect finish external wall insulation (EWI) system. The "Georgian red" colour was added in response to customer demand for a match to the facades of Victorian and Georgian brick-built properties in the north of England. The product has been piloted on the upgrade of more than 70 properties including some owned by Rotherham council, as the local planners wanted to preserve the original construction style.
Saint-Gobain Weber
www.netweber.co.uk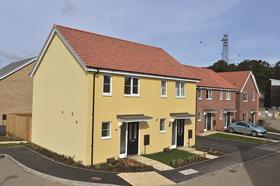 Pantile Roofing Tiles
Redland's Fenland Pantile roof tiles were selected for two large-scale housing projects in Beaufort and Middleton Park. The tiles were chosen because they matched the roofs in the surrounding areas. Redland developed the Fenland Pantile specifically for the South-east and East Anglican markets, which the company understands to favour particular roofing styles. The single pantile shape provides a modern interlocking concrete format, which the company says is weathertight in most weather conditions.
Redland
www.redland.co.uk
Movers and Makers
Robust Details, the alternative scheme to pre-completion sound testing for satisfying Part E of the Building Regulations, have updated the online version of their handbook, which can be downloaded free of charge by signing up to www.robustdetails.com. The update pack includes a new flooring solution, which is now available for registration.


The Zero Carbon Hub has published a guide to correct construction detailing called Builder's Book. The 24-page guide lists 16 common detailing challenges which lead to poor thermal performance, including insulation missing below the damp proof course and installing windows too far forward in cavity walls, leading to cold bridging. Each detail is set out with clear illustrations and a checklist of how to do the job correctly - these are designed to be printed out as posters for use on site. The guide is available as a pdf, download at www.zerocarbonhub.org.


An insulating breather membrane made by Actis has passed a BRE test for resistance to wind uplift. The test was in response to an update to BS5534 (slating and tiling for pitched roofs and vertical cladding - code of practice). Work to roofs on NHBC-registered sites must conform to the revised standard. The product, called Actis Boost R Hybrid can now be labelled as appropriate for use in all parts of the UK.


Shower products manufacturer Roman has launched a brochure which includes products due for launch this autumn. New launches include a frameless shower enclosure collection called Liber8 and additions to the existing semi-frameless Lumin8 range. The company has also introduced a wetroom solution which allows specifiers to select the panel including the glass thickness, size of panel and bracing bars.


Hueck has been selected by the housebuilding company Berkeley Group as a preferred supplier of window, door and facade applications, which will see Hueck's aluminium systems specified for Berkeley's residential and mixed-use developments in London and the South-east. Hueck was chosen due to the company's range of products and manufacturing capacities, as well as their bespoke design services and testing facilities. Hueck offers a range of profiles designed to integrate with each other, such as the Lambda range, which consists of 13 different window systems and seven door systems; the Trigon range of facade systems; and the Volato sliding door system. Hueck products have also been used for London residential work by Mount Anvil on it's Eagle House development (pictured) which used window, door and facade systems from the firm.