This week Alder Hey Children's Hospital gets lots of natural light, dementia patients at Woodlands in Rotherham get murals to serve as memory joggers, and a health centre in Llangollen gets stone walls that blend in with its surroundings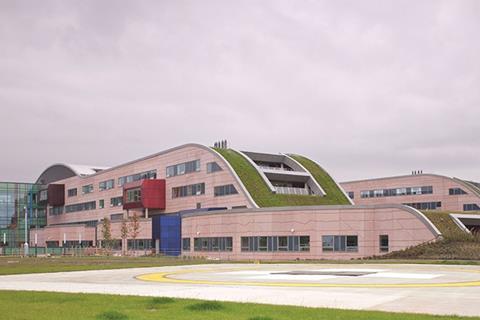 Architectural glazing
Architectural glazing provided by aluminium systems supplier Kawneer has been specified for the £167m Alder Hey Children's Hospital in Liverpool. Two types of Kawneer's curtain walling – AA201 unitised (or modular) and AA110 traditional (or "stick") system – were used alongside AA541 structurally silicone glazed integrated window vents and AA720 and series 190 heavy-duty entrance doors of the building.
The AA110 stick system was used to flood the atrium concourse that forms the hospital's public hub with daylight, while the AA201 unitised system performs the same function for the sides of three open fingers radiating outwards which alternate with gardens, intertwining building and landscape.
Kawneer
www.kawneer.com
Waterproofing system
Sika has supplied a waterproofing and concrete reinforcement system for the building of a new district general hospital that is set to transform healthcare in southern Scotland. The £270m unit on the outskirts of Dumfries and Galloway will contain 350 beds as well as a new emergency care department. Specified by architects Ryder Architecture, approximately 18,000m2 of SikaProof-A will help provide a total waterproof solution for the hospital's basement and below ground floor which include kitchen areas, operational plant rooms and a morgue.
Sika
www.sika.co.uk
Infill panel
Panel Systems has launched a new insulated aluminium panel with a grooved face as an infill panel for glazing applications. Alupanel GP features horizontal or vertical grooves to the external face that add a decorative effect for door and glazing infill panels. These are typically used in domestic glazing, commercial buildings, conservatories and porches. The grooves can be laid horizontally or vertically, and these lightweight panels are available as standard in white, or in any RAL colour, with bespoke groove sizes. Alupanel GP is part of the Alupanel range from Panel Systems, which has been widely specified for a variety of domestic, commercial, educational and healthcare environments.
Panel Systems
www.panelsystems.co.uk
Wall murals
New Vision Signs & Graphics has provided a sliding display system used in two dementia wings at The Woodlands in Rotherham. It was installed on two wards: The Ferns, where people with dementia receive extended care, and The Glades, an assessment unit. In The Ferns, images depicting historic figures and moments brighten the walls, including the first manned moon landing and the Beatles. The images are aimed at helping older people with dementia to remember events from their past.
New Vision Signs & Graphics
www.new-vision.co.uk
Handrails
Yeoman Shield's new Guardian Twin Handrail was installed as part of the ward refurbishment project recently carried out at Barnsley Hospital, South Yorkshire. Yeoman Shield replaced bump rails and handrails with the dual purpose Guardian Twin Handrail in corridors and waiting areas throughout the six wards. Supplied in a pastel blue colour with contrasting accessories in pebble grey, the Twin Handrail was complemented by a matching 200mm protection strip and corner protection angles.
Yeoman Shield
www.yeomanshield.com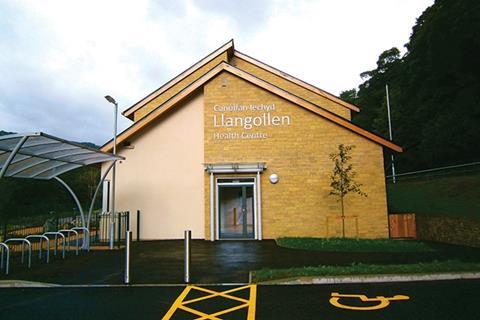 Stone walls
Forticrete's Anstone Walling Stone has been chosen for a new health centre in Llangollen, Denbighshire in north-east Wales. Project architects TACP specified Forticrete's Black Old Weathered walling stone to blend with the natural stone types found in the surrounding area and adjacent World Heritage site, which was an important element of the project.
Forticrete
www.forticrete.co.uk
Window handle
Mila's recently launched Carbon Trust certified GRIP (Green Reliable Intelligent Polymer) espag window handle is now available as an anti-microbial version called CleanTouch for use in schools, healthcare environments, offices and public buildings. The company claims it is the only window handle on the market protected with hygienic, anti-microbial silver ion technology from BioCote. Mila's CleanTouch innovation has been made possible because the GRIP espag handle is manufactured from ABS rather than more traditional zinc or aluminium.
Mila
www.mila.co.uk
Soap dispensers
Armitage Shanks has unveiled its latest range of easy-to-install service and clean soap dispensers and accessories for non-residential washrooms. Each soap dispenser has been designed to complement existing Armitage Shanks products comprising the Contour 21, Avon 21 and Sensorflow 21 ranges of fittings. Available in three designs, each dispenser, be it upright, angle deck mounted or panel mounted, is available in chrome (AA) and stainless steel (GN). Each new dispenser is supplied without soap bottles, although a range of bottles is available separately.
Armitage Shanks
www.armitage-shanks.co.uk
Cubicles
The Minima cubicle system from Amwell Systems has been redesigned and improved by the firm's new product development team. The company says that Minima offers a flexible and diverse cubicle system that can be used across the board in any sector.
The frame is now cast in satin anodised aluminium, offering a modern and sleek finish.
Amwell System
www.amwell-systems.com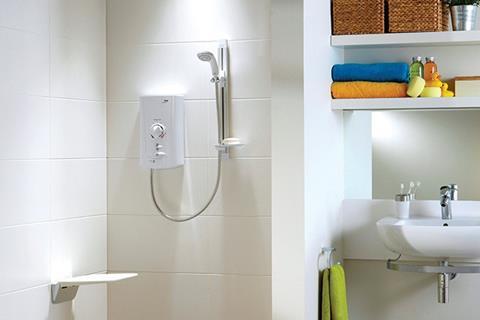 Showers & bathroom products
Mira Showers has developed a range of showering and bathroom products that will aid people who are less able to wash and shower independently. The Mira showering range caters for all types of UK domestic water system, whether low or high pressure, hot and cold water or cold water alone, due to its thermostatic controls. All of these products are complemented by a range of accessories to meet the needs of the young, the elderly and the less able.
Mira
www.mirashowers.co.uk