This week One Lusty Gaze gets a soil and waste system, Orchard Village receives aluminium curtain walling and Hansgrohe releases its chrome plated overhead shower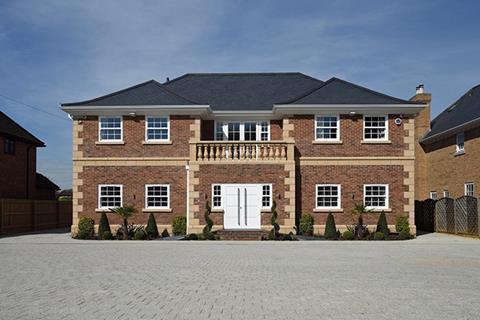 Cast stone
Cast stone solutions from Forticrete were selected for a luxury home in Ickenham, Middlesex. Cills, decorative heads and copings were specified for the four-bedroom, six-bathroom development. Forticrete's products were used to decorate the roof edges and windows of the property. The company claims their cast stone solutions harmonised with the Georgian style home.
Forticrete
www.forticrete.co.uk
Movers and makers
Radiator and towel rail manufacturer Aestus has released a new heating solutions brochure. The document features a collection of British and Continental heating solutions, including an extended range of towel warmers. The 86-page brochure is arranged by style, dividing contemporary and traditional styles into six sections. The brochure features the new Aries collection, which includes heating systems with integral mirrors. In total the brochure features 25 new models across all product categories.
Business standards company BSI has published a guide on improving the flood performance of buildings. The publication looks at the growing risk buildings face from flooding and is an up-to-date guide focusing on buildings constructed with modern methods. National flood risk management policy requires new developments to be designed and built to cope with floodwaters and minimise the reoccupation period after a flooding event. The standard provides guidance on how to improve the resistance and resilience of buildings and reduce the impacts of flooding.
Natural Paving Products has developed a series of stone standards, a resource allowing customers and specifiers to make informed decisions. Using a visual grading system, the stone standard has been applied to the company's sandstone flagstones and block paving in its 2016 brochure. Standards are based on CE testing results and show performance across three key areas: water absorption, flexural strength and frost resistance. The stone standards have been approved by David Richardson, a fellow of the Geological Society and past president of The Stone Federation.
Structural waterproofing and gas protection systems specialist Visqueen has launched a new website that provides information on its product range. This includes product information, news, case studies and technical datasheets. Visqueen said the site was easier to navigate and had been designed to be accessible to mobile users.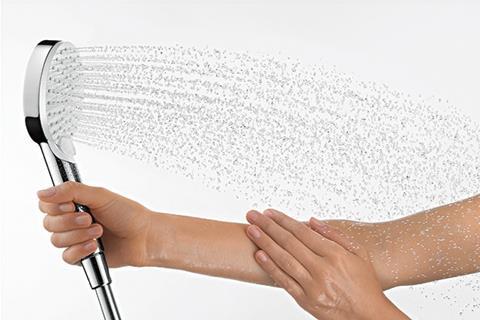 Showers
The Hansgrohe Crometta range comprises overhead and hand showers that comply with the Water Regulations Advisory Scheme. The new Crometta E 240 overhead shower is chrome plated and comes as a complete single system for convenience. The range is also available with EcoSmart, which incorporates a spray nozzle, reducing water flow to up to six litres per minute. The company describe the shower's control unit as ergonomic and convenient. The company manufactures over 800 different WRAS approved products.
Hansgrohe
www.hansgrohe.co.uk
Bath screen
Bathroom specialist Roman has launched an Inward Folding Bath Screen to its Haven range. It features a frameless design with a height of 1,500mm, 6mm-thick glass and is reversible for left or right-hand use. The screen has one fixed panel and one inward folding panel offering what the company described as a safe and compact bathroom solution. The company claims its bath screens are ideal for family bathrooms. All Haven bath screens and shower enclosures feature toughened safety glass and silver framing.
Roman
www.roman-showers.com
Spray plaster
Knauf's Airless Finish spray plaster was provided for an off-site development in Norfolk. The company said that the spray increased the build speed due to its rapid application to concrete panel surfaces. The plaster spray was applied to more than 600ft2 of ceiling using a piston pump machine, before the concrete panels were transported to site. Airless Finish is made up from a mix of polymers and has similar qualities to paint.
Knauf
www.knauf.co.uk
Soil and waste systems
Marley Plumbing and Drainage were chosen to provide PVCu soil and waste systems for a luxury residential development in Cornwall. Located on the coast of Newquay, One Lusty Gaze is a £5.8m lavish development. The company claims the systems were selected as they are a lightweight alternative to cast iron, which is easy to handle and quick to install.
Marley Plumbing and Drainage
www.marleyplumbinganddrainage.com
Ducting
Ventilation manufacturer Envirovent has launched the Fast Track Range of semi-rigid ducting. The company says this new collection offers an energy efficient, airtight and rapid ducting solution. The range is available in various circular and semi-circular dimensions, which suit both domestic and non-domestic systems. The Fast Track Range was developed to meet industry demand for semi-rigid ducting in place of flexible options. The company said this series of products provides a low-maintenance and user-friendly solution.
Envirovent
www.envirovent.com
Water drainage
Hydro-Brake Flow Controls were chosen for a high-density housing development in Llanelli, South Wales. The site could be at risk from flooding due to its proximity to the River Loughor and as a result drainage flow was a major concern for contractors. Hydro International said the controls were specified to provide distributed storage and attenuation throughout the site. The product is said to be low maintenance and approved by Welsh Water.
Hydro
www.hydro-int.com
Electric loft ladders
Premier Loft Ladders has launched a new Escalmatic electric loft ladder. This model comes with a retractable ladder mechanism allowing for use in small spaces and comes as a ready-to-fit unit. The ladder is operated by an electric motor with an infrared remote control. The company said that the unit helps keep down energy costs as well as being robust and practical.
Premier Loft Ladders
www.premierloftladders.co.uk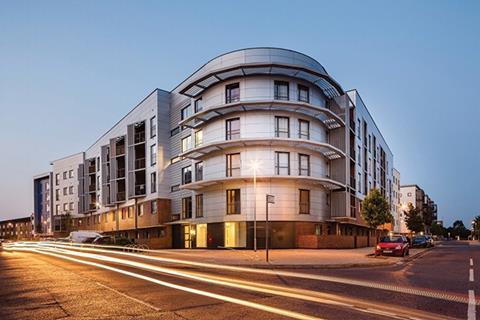 Curtain walling
Aluminium curtain walling and window and door systems from AluK were specified for a new east London residential development, Orchard Village. There will be 555 new homes provided by this £80m investment, which will also include communal and commercial spaces. AluK products are to be used across all four phases of the development. To comply with security requirements the AluK windows and doors feature integrated electric strike access with key fob entry, accredited by the Secured by Design initiative. The company said that its aluminium profiles will provide the homes with energy-efficient qualities which exceed current building regulations.
AluK
www.aluk.co.uk