This week's M&E products include the replacement of an underfloor air conditioning system for a Gatwick Airport building, and an upgrade to fire protection systems at the Edinburgh College of Art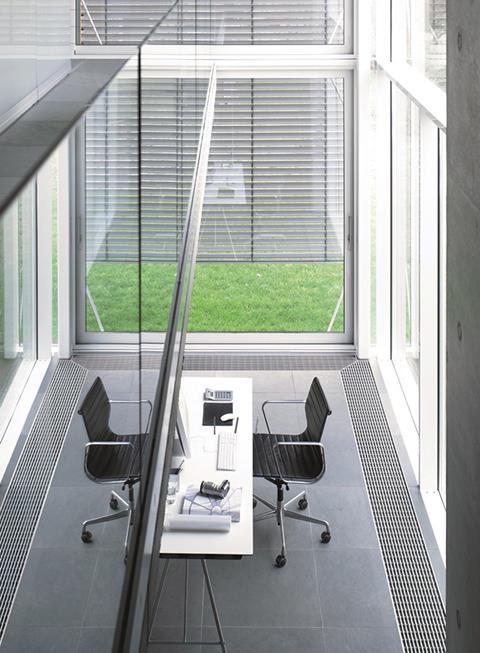 Trench heater
Zehnder has unveiled its new trench heater – the Zehnder Terraline. The Terraline is suitable for a wide range of applications from small residential-sized projects, through medium-sized offices and showrooms to large commercial buildings. The company claims the Zehnder Terraline not only uniformly compensates for the cold air falling inside the room near windows and significantly reduces the possibility of condensation, but it also assists in retaining the glass facade's transparency. The Zehnder Terraline is available in a wide range of heights, depths and lengths, which can be connected in series to form longer heating strips.
Zehnder
www.zehnder.co.uk
Movers and Makers
Albion Valves (UK) Ltd has secured ATEX approval across its range of stainless steel valves, in order to simplify complex European legislation compliance for their distributors. ATEX is a directive from the European Union which requires member states including the UK to comply with a specific set of health and safety regulations designed to minimise the risk of fire or explosion arising from dangerous substances in the workplace. The new directive will become mandatory in April 2016.
BSRIA has launched its Building Performance Evaluation in Non-Domestic Buildings Guide – an introduction to the tests and methods in non-domestic buildings – which is available to purchase from the BSRIA bookshop. The guide is an introduction to Building Performance Evaluation (BPE) and focuses on new, existing and refurbished non-domestic buildings and aims to inform those involved in the design, construction, operation and/or management of a building about the current performance.
Security specialist Abloy UK has launched the white paper 'Effective and Energy Efficient Access Control in Commercial Buildings'. Since the launch of the government's Energy Savings Opportunity Scheme (ESOS), companies are now finding greater emphasis placed on how much energy is wasted in commercial buildings. Abloy's white paper explores the differences between the locking solutions available, and makes recommendations on the best solutions for energy efficient access control.
Pegler Yorkshire has launched a brochure on its range of Terrier radiator valves, which includes manual, thermostatic, programmable and decorative valves. The information on thermostatic radiator valves includes installation instructions and system design considerations, and a section on how using controls can make a difference in the energy efficiency of the home.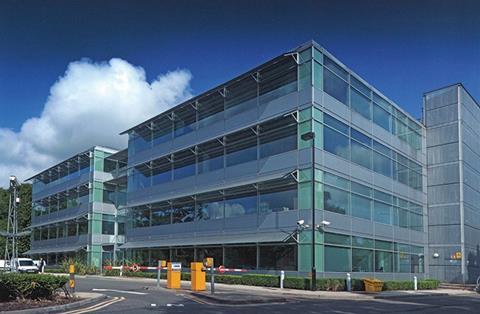 Underfloor air conditioning
AET Flexible Space, manufacturer and supplier of underfloor air conditioning (UFAC) systems, has been specified for replacement equipment for the second floor of the First Point Buckingham Gate building at Gatwick Airport. A CAM-C system has been installed throughout, offering underfloor supply and underfloor return air conditioning. The company said savings in construction time using the AET Flexible Space system were in the region of five weeks, enabling a much earlier hand over and subsequently attracting earlier rental income.
Flexible space
www.flexiblespace.com
Log wood boiler
A SOLARFOCUS Therminator II log wood boiler has been installed at a newly built home in Scotland. Dave and Lesley Ellis were living in Hampshire and had just retired when they decided to move to relocate to Scotland, and build a house from scratch. After carrying out some research, the Ellis' selected the SOLARFOCUS Therminator II 40kW boiler.
SOLARFOCUS
www.solarfocus.com
Heating system
Flexenergy's Flexalen pipe was specified for Plymouth city council when a new district heating scheme meant re-routing the pipe network from new gas boilers to serve offices in the Council House. The Civic Centre, located alongside the Council House, had a gas boiler system which served the council offices. The Civic Centre is being serviced separately to enable its disposal for redevelopment. The Council House will now be fed from the new Guildhall boiler installation via the underground heating pipework. The company says the Flexalen pipe was selected due to its enhanced thermal properties, low embodied carbon, ease of installation and 50-year performance warranty.
Flexenergy
www.flexenergy.co.uk
Door entry panels
Security company Videx has introduced a new series of digital door entry panels with advanced features for building access control. The 4212 panel is claimed to be vandal resistant and best suited to low, medium and high-rise apartments, student accommodation, business establishments and housing association properties. Further features also include an integrated wide angle (155°) 570k pixel camera and proximity reader. The company claims the new panel is capable of calling up to 1,000 apartments and includes coded access for up to 2,800 codes.
Videx
www.videx-security.com
Air source heat pumps
Earth Save Products has announced the release of its ESP Varimax air source heat pumps. The units are Microgeneration Certification Scheme (MCS) accredited, with a claimed A++ energy related product rating. The company says the products already meet the performance standards set to be introduced in 2019. Two unit sizes are currently available – The 4 – 12kW and 12 – 20 kW output versions, and full system design and installation training is provided free of charge.
Earth save products
www.esavep.com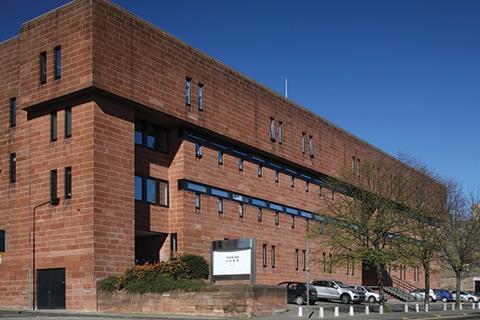 Fire resistant cable
Over 5km of FP PLUS fire resistant cable from Prysmian has been installed in Edinburgh College of Art as part of a significant upgrade to fire protection systems in two of the Lauriston Campus buildings.61 The University of Edinburgh carried out a review at the college to ensure fire detection and fire alarm systems were providing adequate protection. This led to the decision to replace all the alarms throughout the 1970s Hunter Building and 1960s Architecture Building. The company said its product was chosen as it provides a unique enhanced Insudite insulation material with a low smoke and zero halogen outer sheath, ensuring robust performance with flexibility.
Prysmian
www.prysmiangroup.com