Renewing existing buildings from top to bottom is easier with innovative products to suit a range of projects, from cost-effective acoustic ceiling tiles to slip-resistant flooring
Ceiling tiles and canopies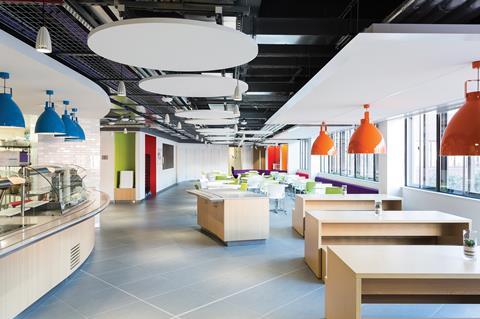 A combination of mineral and metal tiles and canopies from Armstrong Ceilings has been specified in the redevelopment of former Braintree District Council offices. The project has created new offices for the 600 employees of Cofunds, now part of Legal & General. Armstrong claims their products were chosen by architects Swanke Hayden Connell for the refurbishment due to their cost-effectiveness, aesthetics and acoustic properties. Approximately 3,000m² of Armstrong's white Ultima MicroLook BE 600 x 600mm tiles in a 6mm Silhouette grid were used in the open office areas and 20 Optima circular canopies in the café and break-out areas. The Ultima mineral tiles meet sound absorption Class C while the Optima mineral canopies provide 2.00 sabines of sound absorption per piece as well as 82% recycled content. Both feature 87% light reflectance.
Armstrong Ceilings
www.armstrong.co.uk
Ecophon Master Matrix
Ecophon has launched Master Matrix, an acoustic floating ceiling system designed for large open plan areas. Master Matrix has a range of panel shapes and sizes available and the system can either be installed with high coverage of the ceiling area, or installed in rows with 40mm gaps between the panels giving a floating appearance. The company claims tiles used for Master Matrix are able to withstand a permanent ambient RH up to 95% at 30°C without any sagging, warping or delaminating.
Ecophon
www.ecophon.co.uk
Flexseal Icon Internal Coupling
Flexseal has launched a new coupling which connects pipes via their internal surfaces. The Flexseal team has developed the coupling in response to the problems faced in difficult pipe repair situations. The company claims that the Icon Coupling forms a long-lasting, watertight and airtight seal when installed. The new coupling provides a seal in a wide number of applications; to be connected the pipes need a circular internal profile and similar inside diameters. Icon Couplings are available for pipes with internal diameters between 150 and 400mm and will be available through builders' merchants.
Flexseal
www.flexseal.co.uk
Touch thermostat
DEVI is introducing an additional colour to the DEVIre Touch thermostat range. The new Polar White is a brighter white that has been designed to match with white tiles and bathroom or kitchen furniture. The new colour will be offered in parallel with the existing Pure White and Pure Black versions. DEVIre Touch can be installed on new electric underfloor heating systems or as an upgrade to an existing heating system.
DEVI
www.devi.co.uk
Rainscreen cladding
Cladding panels from Steni have been used as part of the refurbishment of three tower blocks in Aberdeen. Almost 8000m2 of Steni's Nature and Colour rainscreen panels were chosen in combination with solid wall insulation to over-clad the apartment blocks. The panels were chosen as they are resistant to weather and climate which improved the weather tightness of the building fabric. Nature panels feature a surface of aggregated natural stones from Europe and are available in 17 different natural stone colours. The apartment blocks were refurbished in order to improve the thermal efficiency of the towers and ensure that the blocks remain structurally sound for future tenants.
Steni
www.steni.co.uk
Anti-Slip flooring

Sika has supplied a slip-resistant and fast-curing flooring solution for the refurbishment of Hangar 3 at RAF Lossiemouth in Scotland. For the 5,000m2 main hangar floor, a coating was required that would deliver easy clean and anti-slip properties – whilst providing a fast and simple application. The company claims this flooring system was used as it offers a protection against heavy loading, abrasion and chemical exposure.
Sika Limited
www.sika.co.uk
Doors and curtain walling systems
AluK (GB) doors and curtain walling systems have been supplied for the refurbishment of an existing retail unit for Debenhams at the Withybush Retail Park in Haverfordwest, Wales. Specified by Holder Mathias, in collaboration with Kier Group, AluK's aluminium building systems were installed for the new shop front and display windows. The SL52 Curtain Walling System was chosen as it allows for continual expanses of glass that, the company claims, enhances the aesthetics of a building whilst adhering to the performance required to meet current standards.
AluK
www.aluk.co.uk
Glass cladding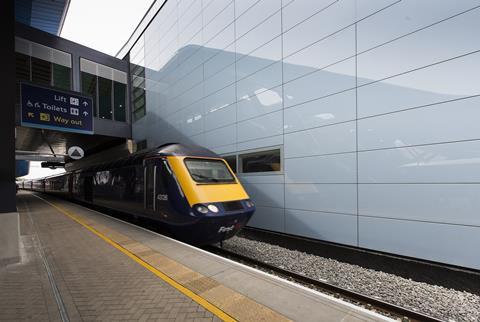 More than 1,200m² of StoVentec glass cladding has been specified by Grimshaw Architects as part of an upgrade and refurbishment project at Reading Station. Works included new platforms, a new entrance and a reworking of passenger circulation areas. StoVentec claims that the system was chosen as it was a straightforward way to retrofit the existing concrete structure. The company was able to match the glass product to a specified RAL shade in order to fit with the aesthetics of the refurbished station.
StoVentec
www.sto.co.uk
Gutter systems
Alumasc Aqualine Gutter systems have been specified in the restoration of Pegasus House, the former HQ of the Bristol Aeroplane Company. The grade II-listed building has been renovated by current owner, Airbus, which worked closely with the local council and architect Capita Symonds to ensure a sympathetic restoration. The aim was to reinstate as many of the building's original features as possible. The original components of the historic rainwater system were beyond repair and had to be replaced with new products that would respect the authenticity of the project. Alumasc's Aqualine gutters were specified by the architect, which gained approval for the system from English Heritage.
Alumasc
www.alumascrainwater.co.uk
MOVERS AND MAKERS
Products in the new Actis Hybrid insulation range have been accepted by both the NHBC and LABC. The range includes a new insulation material, Hybris; a vapour control layer with built-in thermal performance, HControl Hybrid; and an insulating breather membrane, Boost'R Hybrid. These comply with new Part L regulations and can be used, separately or together, in new builds and refurbishments, to achieve high U-values with a minimal thickness. HControl Hybrid, which is used on the warm side of walls and roofs, offers an R-value of 3,20 m2.K/W with two air voids of 20mm according to EN 16012. Boost'R Hybrid breather membrane is used on the cold side of walls and roofs and offers an R-value of 2,40 m2.K/W with 2 air voids of 20mm according to EN 16012.
Sustainable Building Solutions (SBS), part of the Travis Perkins Group, has released three LABC-registered animations to demonstrate how to meet efficiency regulations. The animations are available to view on the SBS website and feature retrofit solutions for internal wall insulation, external wall insulation, and suspended timber floor insulation. Each animation is based on one of SBS's Standard Construction Drawings and has been thermally modelled by BRE and accredited by LABC. The website also features a solution data sheet with technical installation guidelines.To view the animations visit www.sustainablebuildingsolutions.co.uk.
Sussex-based British fan manufacturer Vent-Axia has received a Ruban d'Honneur in the 2013/2014 European Business Awards. Core to Vent-Axia's award entry was the company doubling its manufacturing capacity of unitary domestic fans at its Crawley site. The company has invested in two production assembly lines creating new site jobs. Vent-Axia's range of heating, cooling and ventilation technologies can be used in new build and refurbishment projects.