The sky's the limit for ingenious roofing solutions, whether it be for use on grade II-listed buildings or shopping centres in Milton Keynes
Glazing solutions
GlassSolutions has supplied various glazing solutions for the redevelopment of the grade II-listed Silver Arcade in Leicester, including a full-length patent glazed rooflight, screens and shop fronts.
The Silver Arcade features 20 units and has been closed for more than 10 years before the refurbishment project began in 2009. The firm says its glazing products have helped achieve the required aesthetics, safety and security.
GlassSolutions
www.glassolutions.co.uk
Fibre cement slates
Rhondda Cynon Taf council specified Marley Eternit Rivendale fibre cement slates in blue black to replace the existing slate roof at Cwmaman Infant school near Aberdare in Wales. The project was split over two phases due to the size of the roof - 20,000 Rivendale fibre cement slates were used in total. The firm says the council specified the slates following their successful use on a similar project the previous year at Rhigos Primary school.
Marley Eternit
www.marleyeternit.co.uk
Self-cleaning glass range
Pilkington has introduced its Pilkington Activ SunShade range, a dual-coated combination of the online Pilkington Activ with offline Pilkington SunShade, to the UK. The company says the new product combines the aesthetics and self-cleaning properties of Pilkington Activ Blue with superior solar control performance. It is available in both 4mm and 6mm thicknesses, and can be colour matched, whether toughened or annealed. The firm says Pilkington Activ SunShade is suitable for use in both the roof and verticals of conservatories and large glazed areas.
Pilkington UK
www.pilkington.com/en-gb/uk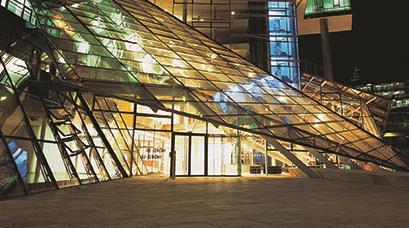 Aluminium curtain walling suite
Wicona has launched the WICTEC aluminium curtain walling suite, which includes stick curtain walling, structural glazing and double skin facades. The firm says the WICTEC suite is suitable for almost any building design such as sloped glazing, pyramids and barrel vaulted roofs. Options include integrated pressure plates of 51mm or 43mm, structural glazing to create glass-to-glass facades and higher levels of security and burglar resistance to achieve RC1 and RC3 standards.
Wicona
www.wicona.co.uk
Natural slate
SIG Roofing Supplies supplied natural slate for the restoration of the roofscape of Raasay House, a Scottish Category Grade A-listed building on the Isle of Raasay. Approximately 917 m2 of SIG Roofing's SIGA 110 natural slate was specified for this project. The company says the slates were chosen as they most closely matched the original Scottish Ballachulish slate, which is no longer available, in texture and colour.
SIG Roofing Supplies
www.sigroofing.co.uk
Solar control glass
Guardian Glass UK has launched SunGuard SuperNeutral SN 29/18 glass, which is produced on Guardian Extra Clear float glass and offers a low solar factor of 18%. The company says this makes it suitable for large glass facades, south-facing elevation and roof glazing. SunGuard SuperNeutral SN 29/18 has a light transmission of 29%, helping to reduce glare, and has a U-value of 1.1W/m2K in a common 6/16/4, Argon 90%, insulating glass unit.
Guardian Glass UK
www.guardianglass.co.uk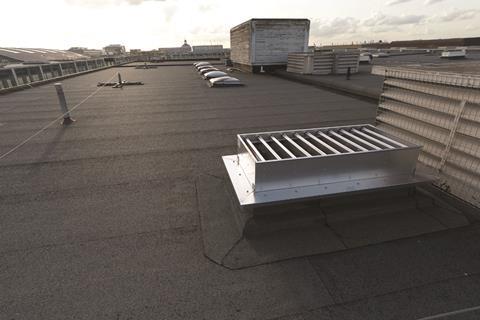 Ecological roofing solution
Alumasc has supplied its Derbigum Olivine flat roofing system as part of the redevelopment of thecentre:mk shopping centre in Milton Keynes. Over 1,000m2 of the Derbigum Olivine membrane was installed by M&J Flat Roofing. Derbigum Olivine is an ecological roofing solution, with a naturally-sourced upper mineral layer. The company says Derbigum Olivine was chosen for its unique CO2 neutralising properties and because it was easy to install.
Alumasc Roofing
www.alumascroofing.co.uk
Movers and Makers
Jewson's new Roofing Guide is now available nationwide from the company's 600 branches. It covers all the company's products and materials, and includes information on Jewson's free estimating service where customers can email their roofing plans and required coverings to Jewson, and the estimating department will match them to suitable manufacturer-specific products.
Kalzip has retained BBA Certification (Certificate No 08/4571) for its foldable and roll-formed aluminium building materials, Falzinc, Dark Falzinc and AluPlusZinc. The materials are manufactured using a PEGAL process that is patented by Kalzip, which the company says enables the materials to have the performance benefits of aluminium combined with the aesthetic appeal of zinc. Falzinc is suitable for fully supported roofing, facade and soffit applications.
Kingspan Insulation has published a series of application brochures for the Kingspan OPTIM-R range of vacuum insulation panels. The brochures include information about how to deal with insulating difficult areas such as balconies and terraces, dormers, rainscreen and external wall applications. All Kingspan OPTIM-R Systems are also supported by a design service, ensuring the panels are used effectively in the space available. The application brochures can be downloaded from www.optim-r.co.uk.
Polyfoam ECO Roofboard Extra from Knauf Insulation has received a British Board of Agrément (BBA) certificate for inverted roof systems. The product has been rigorously tested and the company says it meets all the requirements set out by the BBA under the European Technical Approval Guideline (ETAG) 031.
BM TRADA has launched a new Q-Mark scheme for Marine Plywood. The third-party certification scheme will enable manufacturers to demonstrate that their products have satisfied the most rigorous of quality processes. The scheme aims to support the Timber Trade Federation (TTF), which now requires all Marine Plywood sold by its members to comply with BS 1088.