This week's round-up of roofing products and materials takes in PV panels on a primary school in Wales, an aluminium roof on a venue for the Sochi Winter Olympics, and refurbishment of Edinburgh University
Green roof
Bauder's bitumen, single ply, green roof and photovoltaic (PV) systems have been used at the Awel-y-Mor Primary School redevelopment in Port Talbot in Wales. The new school has replaced two existing primary schools to create one fit-for-purpose school for the community.
The new school has 15 different roof areas, amounting to more than 1,800m². Roof areas totalling 300m² were fitted with 92 PV modules, which were secured to Bauder's PVC single-ply waterproofing. The company claims that the PV system will enable Awel-y-Mor to generate at least 25.9MW/h of solar power each year.
Bauder claims that the PV and green roof systems were specified because they deliver significant cost and environmental benefits to the school, as well as providing
an aesthetically pleasing visual reminder of the importance of sustainability.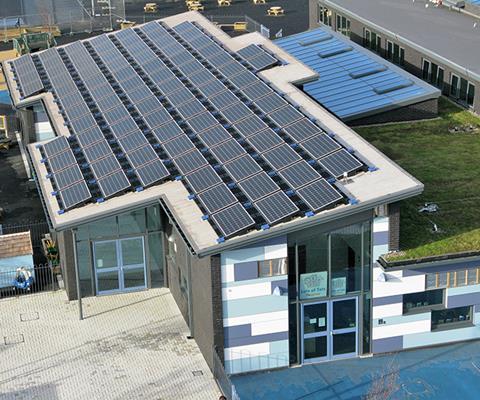 Bauder
www.bauder.co.uk
Wood ceilings
Wood ceilings from Armstrong have been used as part of interior refurbishment works at the University of Edinburgh. Wood lay-in tiles and a customised wood canopy define a new student work/social area at the university's Hudson Beare Building. The 50m² canopy comprises 1,200mm x 600mm US cherry veneer plain wood planks, some containing smoke detectors and movement-sensitive lighting, with a Vector edge detail which gives a narrow 6mm reveal within a Prelude 24 XL2 grid. In addition, the main lecture theatre featured 180m² of Armstrong's 1,200mm x 600mm Ultima OP tiles installed on a Prelude XL2 grid. The company claims that these mineral tiles perform acoustically to Sound Absorption Class A.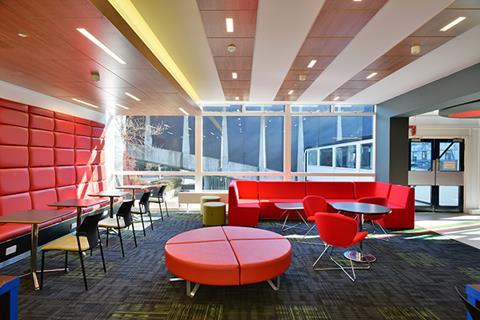 Armstrong World Industries
www.armstrong.co.uk
Fascia soffit system
Alumasc Rainwater's Skyline fascia soffit system has been used for a roof refurbishment at St Cuthbert Mayne School in Torquay, Devon. For this project, the Bullnose design was specified by architect Kensington Taylor and installed by Alumasc Rainwater's approved contractor, Kingswood. The company says the system was chosen to provide a clean, contemporary appearance with minimal maintenance. Skyline was installed around the canopies at the school entrances. Its linear components are jointed by internal brackets, avoiding stepped joints which, the company claims, creates a smooth finish. Manufactured from polyester powder-coated aluminium, the range is available in four generic shapes with bespoke designs availableorder. The product has a 30-year life expectancy, with all processes controlled under ISO9001 & ISO14001 Quality and Environmental Management systems.
Alumasc Rainwater
www.alumascrainwater.co.uk
Thin reflective insulation
Thermic Technology has launched PhotonFoil, a lightweight, composite thin reflective insulation. The company claims the material achieves a 0.18 U-value when used together with 130mm of glasswool/65mm PIR. PhotonFoil uses high-performance glasswool sealed inside low emissivity outer layers and has been tested to the new EN16012 standard for multifoils, including the requirement to state lambda 90/90 values. The firm says the material is suitable for new build, refurbishment and renovation projects and is available in 33, 40 and 50mm thicknesses.
Thermic Technology
www.photonfoil.co.uk
Concrete roof tiles
Redland is adding a new blue colour to its DuoPlain concrete roof tile range. The company claims the range is particularly suited to residential applications as DuoPlain combines the proportions and look of traditional plain tiles with a large format interlocking product. The new colour has a slate grey body with a dark blue acrylic coating applied to the top surface and edges and is being introduced following the success of this colour in Redland's Richmond 10 and Saxon 10 tile ranges. DuoPlain is now available in seven colours; blue, rustic red Tuscan red, and rustic black.
Redland
www.redland.co.uk
Aluminium roof
More than 22,000m2 of tapered Kalzip aluminium standing seam sheets were used to create the aluminium roof of the 12,000-seat Bolshoy Ice Dome for the 2014 Winter Olympic Games at Sochi, Russia. The Bolshoy Ice Dome's three-dimensional roof structure consists of multiple layers. A sub-construction of perforated steel trapezoidal decking sheets was first mounted on steel girders. This was topped with a Kalzip VCL, two layers of Kalzip compressible mineral wool insulation and a tubular substructure of Kalzip Flexicon RR 80 on to which the Kalzip roofing sheets were fixed. The company says Kalzip products were chosen as they allow more creative design options as the standing seam system insulates and weatherproofs the building envelope, allowing any type of rainscreen overcladding to be specified.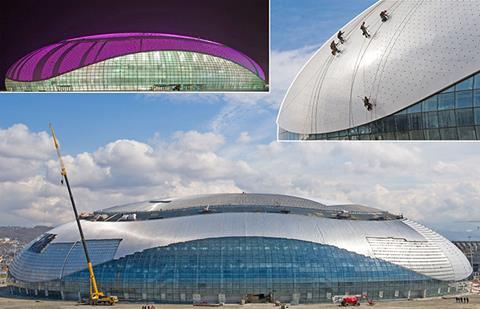 Kalzip
www.kalzip.com
Western red cedar shingles
John Brash Western Red Cedar Shingles have been specified for a new performing arts space at Frensham Heights School in Farnham, Surrey.
The shingles were chosen to help the building blend into its natural environment as the courtyard looks over a woodland glade. John Brash worked with specialist roofing contractor Attleys to ensure that roof detailing met the technical and aesthetic requirements of the project. The firm says all of its JB shingles are No. 1 Grade Blue Label - a premium quality shingle without defect. Blue Label shingles must be 100% clear, 100% edge grain and 100% heartwood. Shingles are supplied with full PEFC chain of custody, to comply with the EU timber regulations.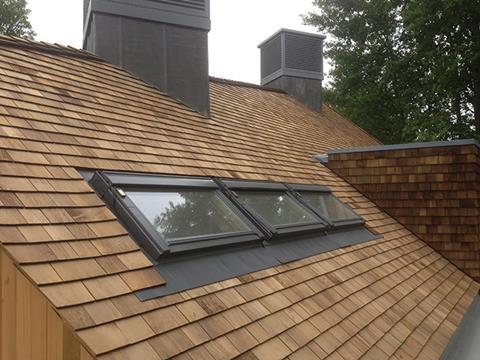 John Brash
www.johnbrash.co.uk
Movers and Makers
Building products manufacturer Steadmans has invested £500,000 in a state-of-the-art slitting line at its headquarters in Warnell, Carlisle. The company is a UK manufacturer of building materials for the agricultural and steel building sectors, specialising in galvanised roofing sections, composite wall and roof sheets, metal cladding, roofing products and fibre cement sheeting. The company claims that the new line's installation has made a positive impact on productivity with computer controls delivering greater accuracy. The installation follows other significant capital investment by Steadmans at Warnell.
As part of its commitment to improving environmental performance, roofline and cladding manufacturer Swish Building Products has cut its carbon footprint by 27.4% since 2008. The company claims its electricity consumption, down 26.2% on the base line year of 2008, proved to be the biggest saving. In the last couple of years the company has also made an effort to improve delivery performance. Swish also claims to be 21% more fuel efficient than in 2008 when delivering its products to its customers. Swish offers maximum points for Mat2 and Mat3 for roofline and cladding under the Code for Sustainable Homes.
Big Foot Systems has launched a new look company brand and "Simply a Better Way" marketing campaign to help promote its rooftop building services support systems. The Sussex-based manufacturer aims to raise awareness of alternative solutions to traditional support solutions for rooftop building services. The company claims that its non-penetrative rooftop support solutions offer benefits such as reduced programme complexity and savings on materials and labour costs. The campaign includes a new brochure and website and corporate video, which can be seen at www.bigfootsupport.com