Manufacturers are keeping on top of roofing trends with products to suit all projects, from glass roof glazing to a Building Award-winning innovation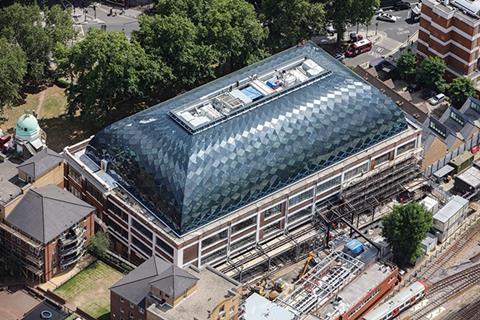 Glass roof glazing
A listed building at 184 Shepherds Bush Road has been converted from a motor garage and service depot with showroom into a modern office building. To reduce solar glare, Schollglas' opaque and tempered safety glass GEWE®-dur-H, which features a completely silkscreened surface, was chosen. The outer surface was glued to an insulating panel, and a powder-coated sheet metal was used to seal the internal face of the panel. GEWE-therm® multi-insulating glass panels with a neutral solar control coating and modern safety properties were chosen for the transparent areas. Schollglas
schollglas.com
Movers and Makers
Redland's tool-free Innofix Clip has won Product Innovation of the Year in the Building magazine awards, and also Product of the Year in the Housebuilder Awards 2016. The Innofix Clip offers the roofing industry a fast and effective way to comply with the recent changes to the British Standard. Designed to last for the lifetime of the roof and supplied in an easy-to-dispense magazine, the stormproof clip is made from stainless steel, is maintenance-free and can be used in all UK exposure zones.
UK roof truss supplier Crendon Timber Engineering has opened a new manufacturing facility. The 1,700m2 factory at the company's site in East Harling in Norfolk is manufacturing trussed rafters and Posi-Joists. The depot will offer a full design and manufacture service for roof trusses and Posi-Joists along with a distribution hub for the south-east of England including East Anglia, Kent and Surrey.
Alumasc's Derbigum waterproofing membrane is the only high-performance bituminous roofing membrane with a 40-year durability statement from the BBA (British Board of Agrément). More than 20 million m2 of Alumasc's Derbigum have been installed upon a wide variety of buildings in the UK, including the Shard and Canary Wharf in London.
Bauder has been recognised at this year's NFRC Scottish Roofing Contractor of the Year Awards, winning four prizes for its work on Edinburgh Airport, Irvine Leisure Centre and Kingsbarns Equipment Testing Centre. The bituminous installation at Edinburgh airport won the Reinforced Bituminous Membrane category and the Irvine Leisure Centre project won both the Single Ply and Solar categories. The Kingsbarns Equipment Testing Centre received an award in the Green Roof category.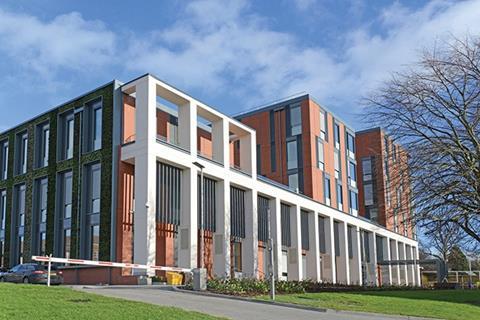 Rainwater solution for cascading roofs
Marley Alutec has supplied a rainwater solution for the cascading roofs of Leicester's Centre for Medicine. The building posed a rainwater drainage challenge, and a complex calculations and bespoke components had to be made to cope with the cascading run-off. The roof drainage design specification had to meet Category 3 standard, which dictates that rainwater systems must have capacity for high levels of rainfall. Marley Alutec products were chosen as they are lightweight yet offer the durability required.
Marley Alutec
www.marleyalutec.co.uk
Natural roofing slate
A private art gallery in Betws Y Coed in Conwy, Wales, has been roofed using Cupa R4 natural Spanish slates from Cupa Pizarras. The product was chosen as the gallery required a slate that was sustainable and would be a suitable fit to the existing environment. The 50cm x 25cm slates were used and secured to the tiling battens with copper nails.
Cupa Pizarras
www.cupapizarras.com/uk
Natural slates
Cembrit's Alpina natural slates have been used for the redevelopment of an award-winning holiday park in north Devon. The product was chosen as the material was required to harmonise with the coastal surroundings. Approximately 35,000 Grey/Green Cembrit Alpina natural slates were installed on the multi-pitched roof. The company used the hook fixing method to secure the slates and lock them together tightly to achieve a neat finish.
Cembrit
www.cembrit.co.uk
Liquid-applied roofing system
Topseal launch liquid-applied roofing system has secured BBA certification. The Topseal Direct Lay System is a liquid-applied GRP roofing system for new build and refurbishment flat roofing projects. The system can be specified for almost any project, regardless of size or complexity without the inconvenience of removing the existing roof. Topseal Direct Lay can be applied directly to a range of materials including felt, asphalt, concrete and tissue-backed insulation and all components are completely cold-applied. A full range of BS/RAL colour topcoats are available, along with an anti-slip finish.
Topseal
www.topseal.co.uk
Curved roof profile
Spaciotempo has launched Oxygen, a curved roof profile. Savills, together with the UK Warehousing Association, reports that the UK is currently facing a shortage of warehouse space, and Oxygen has been designed to bridge the gap between temporary and permanent structures and to integrate an aluminium framed extension into their permanent facilities. Oxygen is available for any size structure, up to an 8m leg.
Spacitempo
www.spaciotempo.co.uk
Roofing insulation
Dow's XENERGY™ SL roofing insulation product has been endorsed by the British Board of Agrément (BBA), following the company attaining a Green Guide Rating A+ by BRE Global for the same product. XENERGY™ SL is a flame-retarded, XPS roof insulation product, which achieves improved lambda insulation performance delivering a Global Warming Potential of less than five. XENERGY™ SL offers a reduction of up to 4mW of thermal conductivity in various thicknesses.
Dow
building.dow.com
Waterproofing compound
CTEC has expanded its product portfolio with the launch of WT1, a waterproofing compound that builds on the technology utilised in the sealant and adhesive CT1. The one-step process of WT1 provides adhesion to brick, stone, concrete, polyester, lead, metals and plastic without the need for heating, mixing or priming. The product is aimed to ease the processes that in roofing repair jobs and once applied, WT1 can be painted, rendered over or tiled.
CTEC
www.ct1ltd.com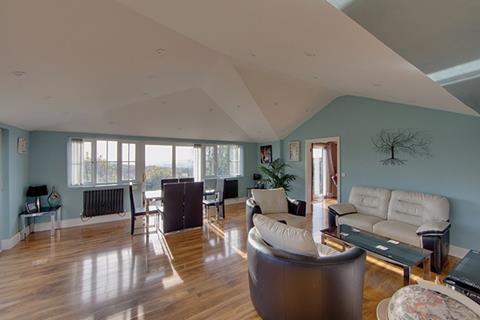 Tiled roofing system
Equinox tiled roofing system from Eurocell was specified for a 1990s-built two-bedroom cottage in Shropshire. According to the company this 12.5m x 6.5m roof is thought to be the largest ever Equinox tiled roof to be erected in the UK. The roof forms a distinctive P-shape using five hips and a valley. The Equinox system has a 5 to 350 pitch variable ring beam assembly that increases the types of roofs that can be replaced while adjustable angles on the hip, valley and ridge add up to easier fitting, and ensure that tiles and ridges sit correctly for finishing.
Eurocell
www.eurocell.co.uk