Forget the sleaze, the crumbling grandeur and The French Connection. A multibillion-pound development programme is about to turn Marseilles into a vast banquet for British construction companies.
The French Connection: three words that no Marseillaise taxi driver can fail to understand, no matter how little English they speak. Not that deploying them gets the tourist very far - mention the film that indelibly portrayed Marseille as a seedy, corrupt, crumbling den of drugs and vice and you're more likely to provoke a flurry of Gallic indignation than an appreciation of shared cultural landmarks.
Fortunately, Marseille's taxi drivers may not have to endure this slight to their city for much longer. The French government is halfway through a 20-year development programme called Marseille-Euroméditerranée, the largest in Europe and the biggest France has seen since the building of La Défense, the Canary Wharf-style business district in Paris. By 2015, it hopes to have reinvented France's second largest city as a European commercial centre to rival the likes of Barcelona and Brussels. To this end, it will invest *50m (£34m) in building works every year until 2015 through Euromed, as the agency running the development programme is known. Furthermore, Francois Jalinot, its general director, expects the private sector to invest three times that amount.
However, Jalinot has a problem – there aren't enough local construction companies to do all the building work and this is pushing up costs. So he needs to draw in foreign companies, not only to occupy all the new office space, but to build it as well. This makes Marseille a prime opportunity for UK construction firms looking for a way into the French market. "There are too few companies working here for such an important building programme," he says. Bringing in new firms is not only desirable, it is necessary. "If British developers come here, I would be glad to welcome them and to explain the market."
Despite its reputation as a faded and sprawling port city, Marseille's grand 19th-century architecture is a reminder of its former prosperity as the gateway to France's African colonies. The rot set in with the decline of the empire after the Second World War, and Marseille's economy took a nosedive – by the time Euromed was set up in 1995, unemployment topped 20%.
Since then, however, the government has embarked on a programme of construction and restoration across five areas of the city and kickstarted the property market. Property agent DTZ estimates that the average annual take-up of office space has increased from 45,000 m2 in 1993 to 76,000 m2 in 2004.
Over the next 10 years, Jalinot's team will be responsible for the Euromed centre, a 70,000 m2 complex including offices, hotels, shops leisure facilities and a convention centre, as well as renewing all public areas and reconstructing Marseille's tram system. Other projects include a museum and shopping centre on the seafront, an aquarium, and a 145 m glass tower designed by architect Zaha Hadid for shipping company CMA CGM that will dominate the city's skyline.
It's hard, then, not to see Marseille as one big building site over the next decade. Add the fact that it claims to enjoy no less than 281 days of sunshine a year and is due to host part of the Rugby World Cup in 2007, and UK firms seeking an entry into the French market could do a lot worse than take Jalinot up on his offer.
In an effort to attract smaller companies, Jalinot split the tenders for the Euromed centre into three chunks, which have received 65 expressions of interest so far. When the initial deadline for responses closes next month, he expects to have about 10 serious bidders, with the winners to be announced at the MIPIM property event in 2006.
Next to where the Euromed centre will stand is Les Docks, a refurbished warehouse with 800,000 ft2 of office and retail space, completed in 2001. This is something of a flagship development for the revived Joilette business district of Marseille. Although it was built on a speculative basis, the gamble seems to have paid off. "We were conscious of the speed of filling up this building, but three of the four phases were full before delivery," says Frédéric Moschetti, Euromed's director of business development E E and real estate. He proudly lists a string of French and multinational companies that Euromed has succeeded in attracting, including banks BNP Paribas and Société Générale, food services giant Compass Group and Telecom Italia. The arrival of the TGV high-speed train service from Paris in 2001 has also been an asset.
Another evangelist for the city's potential is Peter Kasch, managing partner of investor Catalyst Capital, which owns 75% of Les Docks. He points out that whereas office rents have fallen in London and Paris, they have been steadily rising in Marseille. DTZ says that new office space costs on average *190 per m2 per year, excluding taxes. Kasch is an American who lives in London and visits Marseille frequently. He has found the reality of doing business in the city different to its reputation. "When I was looking at Marseille, that was one of the first questions that came to mind: 'Oh my god, Marseille is French Connection land, everybody's corrupt'. I've had some petty quarrels, but I've not been approached or hit up for any kind of business at all."
The discarding of this unwanted reputation owes a lot to Jean-Claude Gaudin who, as mayor since 1995, has been determined to clean up the city's image. Jalinot is emphatic that Gaudin has succeeded: "It's an old story – it's like Chicago, which had that reputation but isn't like that now. Thanks to the evolution of the mayor's policy and Euromed, doing business in Marseille is clear – much clearer than in parts of Spain or Italy."
In fact, suggests Kasch, the desire for transparency could work to UK companies' advantage. "Officials at City Hall in Marseille know they have a reputation for being a closed environment, and so they are trying to appeal to a broader clientele. As an outsider, you always fear that the local guy will have the advantage. But oddly, in Marseille, there may be a prejudice in favour of the not-local guy because the city wants to expand its reputation."
Philippe Venturini, head of DTZ's Marseille office, agrees that there is a desire to get foreign companies involved in the work. "The tenders for Euromed are targeted at foreign companies, particularly Anglo-Saxon ones – in a general sense, they are trying to retain the international flavour of the scheme."
UK property service company CBRE has offices both in Marseille and neighbouring Aix-en-Provence and Hugh Elrington, senior director of EMEA investment, says the easiest way into the market would be to approach developers that are active in the area such as Bouygues, Nexity, Sogeprom and Sari (see "Useful contacts", left). "The problem there is that Bouygues, say, has its own construction firm. But there are lots of smaller French developers such as Lazard who you could tie up with," says Elrington.
Kasch says that firms with specialist skills will have the greatest chance of getting work. "If a British company had some sort of technical speciality – a reputation for building tramways or experience of subterranean construction adjacent to the sea, for example – that could give them the edge."
But Jalinot stresses that UK firms would need to be committed to working in the city – you're unlikely to put together a competitive bid on a one-off job. "If you need to buy concrete, for example, there is only one big facility here owned by Lafarge and they'll favour big French companies they've worked with for years. But if the contract is big, you could invest in a concrete facility."
However, there is a lot of demand in the wider Marseille area, partly thanks to the nuclear power station that is to be built 50 km north of Marseille. "There are construction opportunities there, especially as they will have to rebuild roads to bring very large equipment for the facility," says Jalinot. "There's a lot of investment in infrastructure outside the Euromed area."
Perhaps this goes some way to explaining why Jalinot feels no bitterness about London's Olympic win – and British contractors need fear no awkwardness should they broach the subject. If the French bid had won, Marseille was to have hosted the football, but Jalinot knows he has enough on his plate as it is. "I don't care – we have enough football here already. You can keep it!"

How to spend *200m a year …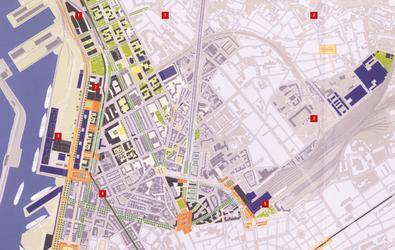 1 CMA CGM headquarters
In the Joilette business quarter, this 145 m glass tower (pictured above) overlooking the harbour will dominate the Marseille skyline. Architect Zaha Hadid has been selected to design the *112m (£76m) scheme. It is due to be completed in 2008.
2 Euromed centre
This is the main project for Euromed itself, a 70,000 m2 complex of offices, hotels, shops, convention centres and leisure facilities also in the Joilette business district (pictured above right). The tender is divided into three parts: phase one for investors, architects and interior designers, phase two for operators of the multiplex cinema and four-star, 200-room hotel and phase three for operators of the conference centre. The winners will be announced at MIPIM in March 2006 and all phases are due for completion by 2008. The development also includes rerouting one of Marseille's major arteries underground at a cost of *150m (£102m).
3 Cité de la Méditerranée
Euromed's redevelopment of Marseille's seafront includes:
The *150m (£102m) National Museum of European and Mediterranean Civilisations, due for completion in 2010
The *250m (£169m) 100-unit Les Terrasses du Port shopping centre, due for completion in 2009
A *60m (£41m) theatre converted from an old grain silo (pictured above right), set to open in 2008
The renovation of the cathedral.

4 Rue de la République
This is one of the largest renovation projects, focusing on the 1 km long main street linking the business district to the port. It is one of Marseille's most architecturally interesting areas but also one of the most rundown, and has a large North African population. Eighty per cent of it is owned by just two companies, one French, the other a Texan investor called LoanStar. They are planning a facelift of the houses, and Euromed will develop the shops and build a tramway to open in 2007.

5 Saint-Charles and the Porte-d'Aix
Since the TGV high-speed rail link arrived in 2001, the government has spent *414m (£281m) on modernising the Saint-Charles station and developing the surrounding area, including the Belle-de-Mai television studios nearby. At the Porte-d'Aix, the gate of the city, a district of offices, hotels, shops, housing and university facilities is under construction.