Green Deal Finance Company removes barriers for firms to lend under flagship government scheme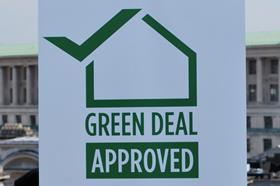 The Green Deal Finance Company has completed a package of reforms designed to make it easier for people to get Green Deal loans.
The changes include reducing the paperwork that has to be signed by consumers from five forms to just one on a single page; reducing the time it takes to approve Green Deal providers from three months to three weeks; and reducing the data required from consumers to make an application for a plan.
It also announced that from mid-February systems will be in place to allow consumers to sign a plan on the same day as they have an assessment.
Mark Bayley, chief executive of the Green Deal Finance Company, said the company had taken "important steps" to help the "growing number of providers".
He added: "Consumers will now have the relevant information at their fingertips and can make an informed decision about improving their homes' energy efficiency in an affordable way."
"We will be working throughout 2014 to continue to make the sales process even simpler for our providers."
The company also revealed it has so far approved £6.9m of loans across 1,735 payment plans in the first year of the Green Deal being in operation.