Regeneration of regional city centres outside London is seeing construction companies such as Szerelmey GB engaging with local Clients and Developers to deliver projects within a highly collaborative framework. Szerelmey GB delivers award-winning external, internal and hard landscaping projects in natural stone, brick and faience across the country.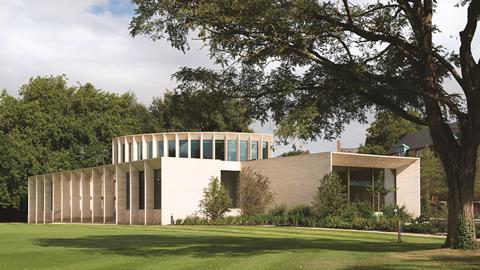 For the first time in a number of years more people are leaving London than moving to it; there are many reasons for this shift but the result has contributed towards widespread investment in the regions. For Szerelmey GB this is positive on every front! While regional cities have long been cultural destinations, inward investment and realised growth potential is seeing key cities boom, not least Birmingham, the second largest city in the UK, where the Big City Plan is well under way. The hard landscaping team at Szerelmey GB are on site installing 7,000 sq m of paving, steps, bleachers, planters and ramps across the Paradise Circus development at the heart of the city.
A milestone was reached recently when the first section of hard landscaping was unveiled in time for the Remembrance Sunday parade. This opened up the important Centenary Way route linking the new Library to Victoria Square and the shops – the retail and entertainment sections of the centre. The Company also installed the hard landscaping to the flagship Library building in 2013, which was shortlisted for the Stirling Prize.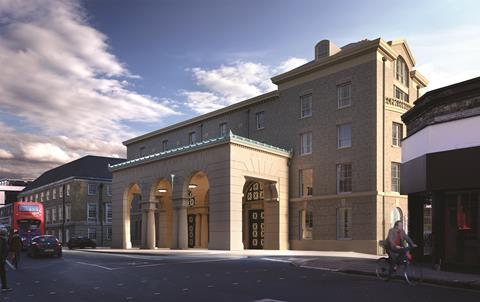 Szerelmey GB have recently launched into the "Northern Powerhouse" region on site in Yorkshire delivering the largest new country manor house in the area to be built for 200 years. This exciting project is a spectacular brick building with stone dressings in a traditional style and is a landmark project both in its size and its associated history.
Over many years Szerelmey GB has established a reputation for quality and delivery across the country with excellent technical skills and a highly collaborative approach. It is this collaborative approach and open communication with the Principal Contractors, Client, cost consultants and supply chain that has led to Szerelmey GB being the first choice for all stakeholders on outstanding projects across the regions.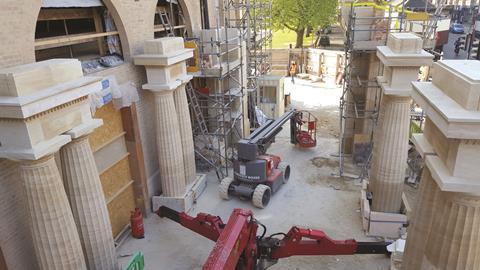 Two such projects delivered by Szerelmey GB are Stirling Prize winning building, The Sainsbury Laboratory in Cambridge and the Stirling Prize runner up, The Bishop Edward King Chapel in Oxford. Szerelmey GB has a long history of working in these two university cities which are both reinvesting to boost growth and development. Recently Szerelmey GB completed the Sultan Nazrin Shah Centre at Worcester College Oxford, with its complex pattern of interlinked 6 metre high Clipsham limestone fins and soffits to deliver a polysemy of architecture; at a distance light and elegant and up close solid, honest and monumental.
A current project on site is the new library and study centre at St John's College, Oxford designed by Wright & Wright Architects, constructed in local Clipsham limestone and joining a new structure forming the study centre to the existing Laudian Library. In addition to the design, supply and installation of all the limestone, Szerelmey GB is installing a major sculpted work of art by artist Susanna Heron, with whom Szerelmey GB have previously worked at the Sainsbury Laboratory in Cambridge.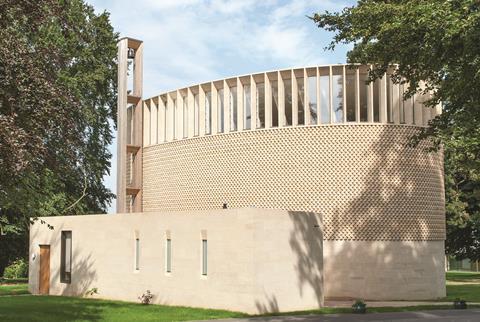 Live Cambridge sites for Szerelmey GB include the landmark University Arms Hotel, which is nearing completion. This extensive project with John Simpson Architects has seen the transformation of the existing building and the addition of clever new elements including a Porte Cochere constructed using loadbearing Clipsham limestone columns with decorative capitals. The Porte Cochere reflects a hybrid solution and a combination of traditional masonry with grey back precast concrete. The fluted columns are solid and the corner columns are brick filled within stone courses. At the top there is a solution of precast concrete backing tied in with a site poured ring beam and stone cladding to ensure stability by engineering the structure to avoid progressive collapse. Szerelmey GB also delivered the new brickwork facades, the Clipsham limestone plinths and precast cills, string courses and copings as well as restoring the retained facades.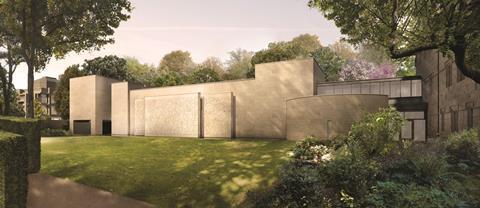 Szerelmey GB offers a complete and fully project managed service from the design of supporting structures and fixings, to the supply of the materials and on site installation. All design works are carried out in house and include testing and calculations, and all other works undertaken are by directly employed operatives. The Company is recognised as a leading specialist in exteriors and interiors of new build stone, brick and faience buildings.
Mark Dellar the Director for GB states, "the ongoing regeneration of our city centres outside London is breathing new life and opportunities to those cities. A brief stroll through cities such as Bath, Birmingham, Bristol, Glasgow and Edinburgh reveals the rich history of our country and its achievements reflected in the building fabric. We are proud to be a part of that heritage and be here to support our clients in delivering the next generation of buildings that will ensure an architectural legacy for future generations."