Lifschutz Davidson Sandilands wins central London bridges scheme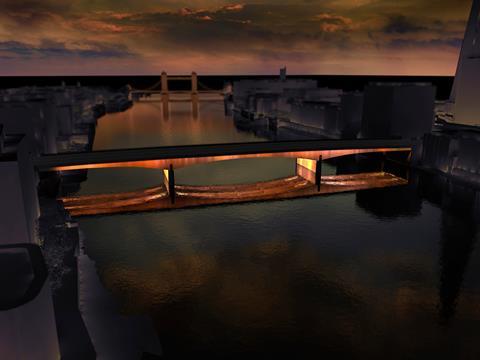 Lifschutz Davidson Sandilands (LDS) has won the Illuminated River design competition for a £20m light installation covering all 17 central London bridges.
The scheme, a collaboration with US light artist Leo Villareal, defeated rival bids led by David Adjaye, Diller Scofidio + Renfro, Sam Jacob Studio, Lyon-based Les Éclairagistes Associés and Amanda Levete (AL_A), which received an honourable mention.
Called Current, the LDS team will deliver a slowly moving and colour-changing lighting scheme synchronised across all the bridges.
Hannah Rothschild, chair of the Illuminated River Foundation, said the project would "transform" the Thames after dark.
"At night, the river becomes a ribbon of darkness, a place that few enjoy and at odds with the ambition to make London a 24-hour city," she said.
"This project will bring light, energy, beauty and recreation to the river and at the flick of a switch transform the city at night."
Of the winning scheme, she said: "Their scheme is beautiful, ambitious and realisable but always considerate to the environment, lighting levels and energy conservation. The jury is convinced that the winning team will transform the centre of London while remaining true to the spirit and integrity of the Thames and its communities."
She said the architect's experience of building bridges had counted, with the Hungerford footbridges, which link the South Bank with Charing Cross station, designed by LDS.
According to the foundation, the cost of implementing the winning scheme will be met by "private and philanthropic sources" rather than the public purse.
London mayor Sadiq Khan said: 'We saw an incredible response to this fascinating competition, showing that London continues to inspire creatives from around the globe, and is open to all."
The competition was organised by Malcolm Reading Consultants.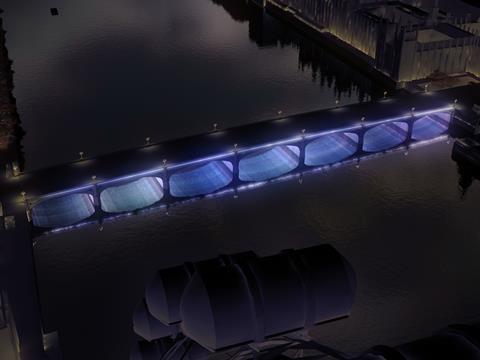 The winning team
Current: Leo Villareal with Lifschutz Davidson Sandilands and Future\Pace, Atelier Ten, Beckett Rankine, Bradley Hemmings, Core Five, Futurecity, Greenwich+Docklands International Festival, MBNA Thames Clippers, Montagu Evans, Pentagram, Price & Myers
The others shortlisted
Blurring Boundaries: Adjaye Associates with Cai Guo-Qiang, Chris Ofili, Larry Bell, Jeremy Deller, Philippe Parreno, Richard Woods, Mariko Mori, Lorna Simpson, Teresita Fernández, Joana Vasconcelos, Angela Bulloch, Thukral & Tagra, Katharina Grosse, Glenn Ligon, Doug Aitken, Tomás Saraceno, onedotzero digital consultants, Plan A Consultants, DHA, Hurley Palmer Flatt, AKT II, AECOM, Arup, Sir Robert McAlpine, Tavernor Consultancy, DP9, Four Communications, Hayes Davidson digital visualisers, Bosch and iGuzzini
The Eternal Story of the River Thames: AL_A, Asif Kapadia, Simon Stephens, SEAM Design, Arup, GROSS. MAX., Mark Filip, Soundings and DP9
Synchronizing the City: Its Natural and Urban Rhythms: Diller Scofidio + Renfro with Oliver Beer, Arup, Copper Consultancy, L'Observatoire International, Penoyre & Prasad, Jennifer Tipton and Transsolar
A River Ain't Too Much To Light: Les Éclairagistes Associés, ecqi and Federico Pietrella in association with GVA Lighting Europe and ewo
Thames Nocturne: Sam Jacob Studio and Simon Heijdens with Studio Dekka, Daisy Froud, Elliott Wood, Jackson Coles and Prof John Tyrer