The construction sector can combat pre-conceived ideas of a male-dominated industry to increase the breadth of opportunities there are for women in engineering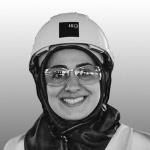 My passion for mathematics and physics during my school years, and growing up in a family of engineers, encouraged me to pursue a career in civil/structural engineering. Having completed my BSc in Civil Engineering at Sadra University, Tehran, Iran, I gave myself six months to learn English, which was a crucial prerequisite to studying for a Masters at a world class university.
Once I'd achieved my MSc from Imperial College London, I didn't want my education to stop, so I joined ISG's graduate programme in August 2014. Just over a year into the programme, I went onto to win the National Outstanding Achievement Award for Construction and completed the scheme six months earlier than planned. I haven't looked back since.
I am fortunate that my workplace is an inclusive and increasingly diverse environment. We've taken proactive steps to encourage more women to explore careers in construction and recently signed the Young Women's Trust pledge to improve apprenticeships for women interested in pursuing a hands-on role in the industry.
A recent survey by the Young Women's Trust shows that women apprentices earn on average 21 per cent less than men, are represented in a narrower range of sectors and receive less training. There is clearly a lot of work left to do to ensure we get to a place where these statistics only exist in history books. However, we should celebrate the progress we have made and International Women in Engineering Day is the perfect opportunity.
There are many positive steps that companies can take to adopt a more inclusive working environment and encourage women to consider a career in engineering. In my opinion, there are three key areas of opportunity:
Women apprentices earn on average 21 per cent less than men, are represented in a narrower range of sectors and receive less training
1. Overcoming stereotypes
There is a widespread assumption that I work on a building site all day. This is simply not true. Much of my time is spent in an office reviewing structural related drawings or liaising with sub-contractors and dealing with their technical queries. It is essential we combat these stereotypes of day-to-day life as an engineer. I see many women, who studied engineering as their degree subject, decide not to continue this career trajectory because of society pressures and general misconceptions about the industry and its appropriateness for women. Companies must therefore be proactive and adopt a more transparent approach to communicate the varied nature of the role.
2. Targeting schools
In 2015, it emerged that the annual shortfall of individuals with the right engineering skills in the UK was 55,000 people. There is still a clear shortage in the essential areas of education necessary to sustain the talent critical to our sector's future. We are again taking a proactive step forward – in July we will work with a group of 16-18 year olds from a local school, through the East London Business Alliance, which aims to build the connection between businesses and local communities. Reaching out to young girls at an early age will inspire them to take up subjects that will pave the way for a career in engineering.
3. Focus on retention
The industry needs a systemic change to the way individuals are supported. Greater flexibility of working hours and stronger mentoring for individuals returning from maternity leave is crucial. Flexible working opportunities in STEM sectors are sparse, with only six per cent of engineering companies offering flexible working. Retention of women in the industry is just as important as recruitment. We need to inspire women to join the construction industry, but we must be supportive to keep them.
Zahra Ghaffari is an assistant project engineer for ISG