It took Andy Steele just five years to transform Connaught into a £240m-turnover sensation. So when Osborne found itself in trouble during the recession, the family-run contractor turned to Steele to get the firm out of it. One year into the job, can he pull it off again?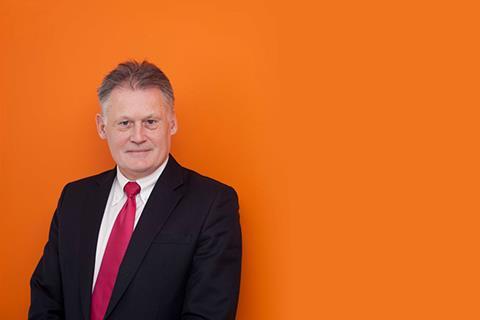 When contractor Osborne started losing money in the recession, its owners and managers looked around to get a thorough second opinion on the direction of the business. The person they turned to was Andy Steele, who had started his career as a graduate trainee at the firm in the 1980s. From these beginnings, Steele had gone on to run Connaught's property services division as the firm transformed from a £77m-turnover FM business to a £240m social housing contractor prior to its 2006 flotation on the stock market. Subsequently out of the industry for the best part of a decade, Steele was lured back to advise and manage the turnaround of Osborne's construction division. He finally assumed the firm's top job a year ago this month.
And it's not just Steele who has been clocking up the anniversaries. This March marked exactly 50 years since Geoffrey Osborne founded the £310m-turnover family-owned contractor, which returned to profit in 2014 after reporting a £2.6m pre-tax loss in 2013. So with Steele's tenure now getting into gear, this is an important year for the firm.
Steele's prescription for returning the company to health and growth builds on the same ideas that enabled Connaught's stellar ascendence – but it is not necessarily what you might expect. Steele's view is that building firms have neglected marketing, perception and customer service for too long, in favour of focusing on technical capability and commercial management. He wants to right that wrong. And, along the way, he hopes to start to address what he says is the biggest issue holding the industry back: the fact its customers just don't trust it.
If this approach seems a little unconventional, then maybe that's because Andy Steele isn't quite the standard factory-issue contractor chief executive. OK, so the West Country-born quantity surveyor might be white, male, and, at 51, unignorably middle-aged. But he not only seems willing to take on fresh ideas, he also questions his own role in his previous successes to a degree surprising to anyone used to dealing with the bull-headed confidence of many sector bosses. Hence, after his success at Connaught, he went off to run West Country-based legal firm Stephens Scown simply to test whether he was able to repeat his success in a totally different arena.
"It's the biggest question I've ever asked myself in life – why was it [Connaught] so successful so quickly?" he says. "You look at it and go, was that me?"
If you ask me what the single biggest issue in the industry is, it's how do contractors start to convince customers that, actually, we should be trusted
"The ultimate test was to go off and do something completely different. It was why I went into the legal profession – because I didn't know the answer. It was almost an academic exercise… to actually educate an industry that's not overly blessed with business leaders and an understanding of business."
Connaught grew during Steele's 2000-2005 tenure as managing director of property services by making a bold move into social housing at the right time, in advance of the announcement of New Labour's £10bn Decent Homes programme, and at the advent of long-term partnering contracts. This was prior to the more aggressive leveraged growth strategy, that happened after he left, that presaged the firm's downfall in 2010. But, he says, he also learned from the firm's then boss Mark Tincknell about how success could come from taking a different approach in an otherwise conservative industry. "The chief exec was quite visionary, and he certainly educated me in looking at things from a marketing perspective rather than from a product perspective – which is where a lot of construction companies are still entrenched," Steele says.
It is this lesson that he took to Stephens Scown, which underwent a radical rebrand during his time in charge, and which he is now bringing back to Osborne too. Osborne had its own rebrand last year, plumping for a very un-construction magenta for its logo and corporate colour. It has also invested to become the first contractor to receive a ServiceMark from the professional membership body the Institute of Customer Service in recognition of the quality of its customer care, and Steele says the approach is about taking the client's experience very seriously indeed. "Most contractors are still focused primarily on the technical. But customers should just assume the technical competency will be there. My belief is we have to go beyond that. It is the other parts about your relationship that actually determines what the customer experiences."
But construction is nothing if not unforgiving for those leaders who take their eye off the nuts and bolts while getting carried away with the vision thing. Hence, Steele's first year and a half at Osborne was much more hands-on experience. He was approached by the directors in 2013 to review the firm's strategy, and was quickly appointed MD of its then struggling construction division, focusing on closing out problem projects and restructuring. "It was a part of the business that had been through the mill. We had to very much stabilise the ship… a turnaround project. It was effectively an 18-month interview. It gave [chairman] Andrew Osborne the opportunity to see what I was truly like, to see if I was the right fit."
Once in charge of the whole business, Steele set about regulating and reshaping it to give a more reliable, higher margin income stream. While the business's three principal divisions – construction, infrastructure and maintenance – are currently weighted heavily in favour of construction, with its unreliable workflow and low margins, Steele is aiming for the business to be split evenly between the three. Its public sector focus – with clients including social landlords, Network Rail and Highways England – has also been an issue in a time of austerity. "The reality is it [Osborne] had suffered. Like virtually every construction company out there, it had been battered by the downturn and had gone into loss-making. It caused the owners some sleepless nights."
The firm's results for the year to March will see the first fruits of Steele's promotion to chief executive, but also demonstrate how far there is to go. Steele says they will show turnover up to around £350m from £310m, but profit down, due to the lack of projects from the firm's development business, which had boosted last year's numbers. Evening out the flow of Osborne's development projects, is, he says, another of his tasks. The Osborne family, which still owns all of the business, has not asked Steele to hit any grand turnover target, but nevertheless he says it is realistic to expect the business to be turning over £600m within a few years.
I learned to look at things from a marketing perspective rather than from a product perspective – which is where a lot of construction firms are still entrenched
While the delayed projects that the firm said hit its turnover last year are now all on-site, Steele says the rising subcontract prices that caused the delays are still very much in evidence. The only way this can be tackled, Steele says, is by customers bringing in contractors earlier in the process – but this will only happen when clients start to trust that contractors won't simply try to take advantage of them.
"If you ask me what the single biggest issue in the industry is, [it's] how do we as contractors start to convince customers that, actually, we should be trusted. If we can start to resolve that then we can start to move the industry forward," he says.
"We work on an open book basis. And a lot of the second stage [procurement] process is a lot more transparent than it was. But we still start on the premise that they don't trust us – as a principle we're not trusted."
For Steele this will only happen once the client's experience is much improved – which is where the marketing comes in. "For the customer to trust you, you have to show that you understand them."
Steele says Osborne will remain true under his watch to its history of determination to do business ethically – but yet it is clearly still subject to the same lack of trust as the rest of the sector. "It can't be because we're making too much money," he smiles, "all they have to do is look at the results."
Steele clearly hopes his approach, in Osborne's 50th year, can fix both sides of the equation.