When Arcadis bought EC Harris last year, it became the 10th largest design consultant in the UK and gained leverage in Asia and the Middle East. Now it's brought in Neil McArthur to spend a further £100m on acquisitions and turn it into an even bigger global player. Building asked him if he was up to the job. Portrait by Jon Enoch

Arcadis may not be a firm you are over-familiar with. The Dutch engineer, architect and consultant's UK presence was, until recently, based largely on its acquisition of QS and project manager AYH in 2005 - a purchase, it's probably fair to say, that hasn't gone entirely smoothly. But Arcadis is a name you're about to become a whole lot more used to. Its October purchase of £290m-turnover consultant EC Harris, for a rumoured £90m in cash and shares, has catapulted it into the big league in the UK. And, after globally doubling in size between 2005 and 2010 by both organic and acquisition-led growth, it is now the 10th largest design consultant in the world by turnover.
And for the next phase of its growth, Arcadis has turned to a Scot, Neil McArthur, trained and blooded as a civil engineer, who has nonetheless practised as a management consultant for the past 21 years.
In May McArthur will take control of the £2bn-turnover 18,000-strong engineering-led behemoth from long-standing chief executive Harrie Noy. It's an understatement to say he takes the helm at a difficult point in the market. Results from the firm last week show that sharply declining revenues from government projects are being offset by stellar growth in emerging markets - but only just.
To continue to grow in the market will need a steady hand.
Meanwhile the competition for dominance between the Aecoms and URSs of the world has only got more cut-throat. "Arcadis has been on a journey to become a leading global player," McArthur says, aware of the firm's heritage. "A company whose roots are very deeply seeded historically in the east of the Netherlands, we're now on the world stage. We're at an inflexion point in Arcadis' history." So who is the new chief executive, and how does he plan to achieve that growth?
One place to start is by asking what is the stupidest thing he has ever done. It's not hard for him to come up with an answer. On a skiing holiday, almost 20 years ago, he decided to perform a back flip off the chalet balcony into a snow drift below. "It turned out the snow wasn't nearly as deep as I thought," he says. "The result was a trip to hospital and nine months before I could walk again."
Before the EC Harris deal was finalised, I described it as a thing of beauty. Very infrequently something has such a good strategic fit
And, in a funny way, it's a mistake you can imagine the 50-year-old making. Because to have attempted that back-flip required a combination of audacity, great skill (he actually managed to land on his feet, but nevertheless ripped all the tendons in his ankles), and, more than anything, high confidence in his ability. After two hours spent with the man at Arcadis' swish 23rd floor headquarters in Amsterdam, it's clear these are all qualities he has in abundance.
Neil McArthur certainly talks a very good game. In eight years after graduating from Glasgow University (with 1st class honours, he points out) in 1982, he helped open up the gas fields which have since bankrolled the growth of Qatar for Shell, before moving to Holland where he project managed the $1.3bn construction of a 110-km pipeline in the east of the Netherlands, the biggest in the country. It was only after this experience that he quit, got an MBA, and a job at renowned management consultant Booz Allen Hamilton - now called Booz & Co - where he remained until the middle of last year.
Relaxed and with a friendly manner, he has retained his well-to-do Scots brogue through more than 20 years in Holland. He's keen to stress the importance of his early experiences, even if his corporate phraseology betrays his time in business consultancy. "I have very strong understanding of strategy and what drives it. But I was always into large buildings and structures - I won the structural prize at university. As a project manager I understand the business we're in, of creating large capital-intensive assets."
McArthur arrives mid-way through Arcadis' most recent three-year plan. Its focus has been to move the firm into higher value consulting services and grow it internationally, and it's clear this is a vision its new chief executive shares. So unlike Aecom, the world's biggest consultant, we won't see Arcadis looking to add construction capabilities to its consultancy services. "It's very clear that some players like Aecom have moved into what I'd call very simply the lower value-added construction end of the business, and they've done some acquisitions in that space," says McArthur.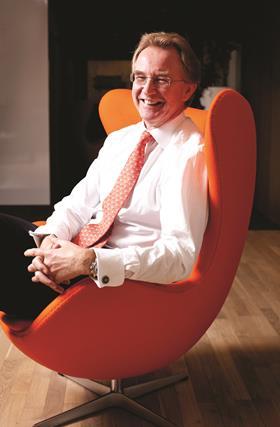 "That may be an answer in one market segment, where there may be a shift to design and build. [But] that's not where we are. In other market sectors clients are very much looking for high value-added consulting expertise to help them make better choices, and optimise the capital expenditure without getting into the building side."
So is he seeking to join the consultant arms race, and move from top 10 to top three? "No. We want to be the best not the biggest - as recognised by the value that we can add and the strength of our client relationships."
That doesn't mean that Arcadis isn't keen to expand - the firm has a £100m fund for acquisitions, primarily aimed at the emerging markets of Asia, the Middle East and South America. And that's where EC Harris, which itself spent the last five years attempting to turn itself from jobbing QS into high-end "built asset consultancy", fits into the plan.
So much so that McArthur seems to be adopting EC Harris' built-asset tag line for the whole group. "A wonderful concept," he gushes. More prosaically, the buy-out also gives Arcadis much-wanted market presence in Asia and the Middle East, although 60% of EC Harris' business is still in more traditional cost consultancy and project management, as opposed to the strategic advice that both see as the future.
"In the discussions before the deal was finalised, I stood up and described it as a thing of beauty. Very infrequently something has such a good strategic fit," he says.
"[The acquisition] helps us enormously in building leadership position in some of our core markets. Some of the world's biggest institutions are headquartered in the UK and putting us in the top tier in the UK gives us a great opportunity to further grow our global multinational client programme."
As revealed last week by Building, full integration of the two firms will happen over the next 12 months. The EC Harris brand will stay as long as it helps Arcadis win business. He's also convinced that Arcadis' corporate culture will allow it to avoid the departure of senior staff which has plagued other mergers between partnerships and big corporations. "There's something about the way Arcadis is able to merge with other companies and transfer the spirit of being an Arcadian to those people, that [makes them] become part of the Arcadis family. We're very confident that moving forward, that the issues with Davis Langdon and Aecom are not in the style and the culture of what we aspire to do."
So how will he manage all of this? Despite claiming himself to be an awkward bugger, always inclined to swim against the tide (as a child he was probably the only protestant in Scotland to support Celtic), McArthur says it is teamwork - best exemplified, he says, by the co-operation and sheer bloody hard work of the rugby field - that he wants to inspire Arcadis' global staff. "Making others successful, you need a team. It's not about me. Rugby is a great way of having a very strong team which builds lasting relationships - that's the ethos."
The next few years will test if McArthur can match his talk with action, and has what it takes to build a winning team there.
What is Arcadis?
Founded in 1888 to help reclaim land from the sea for farming, Arcadis is now a Dutch-based engineer, architect and consultant. It employs 18,400 staff, of which 86% are based outside the Netherlands. It is split into four divisions: infrastructure, water, environment and buildings. In 2011 it reported revenues of £2bn, and made a profit of £81m.
10-second Neil McArthur
Likes: Rugby and skiing.
Proudest sporting achievement: "Playing for the Dubai sevens against a team including three all-blacks. I touched Bernie Fraser's heels a couple of times as he ran past me."
Most unlikely management guru? Donald Sutherland, playing pot-smoking soldier Oddball in the 1970 film Kelly's Heroes. "For me he sums it up when he says, 'Why don't you knock it off with them negative waves?' - so much can be achieved with positive energy."
Scottish or British? A proud Scot.
Favourite book: "I found Nelson Mandela's autobiography incredibly inspiring."