Chief executive of partnerships builder Keepmoat, says business is booming amid speculation on a sale or flotation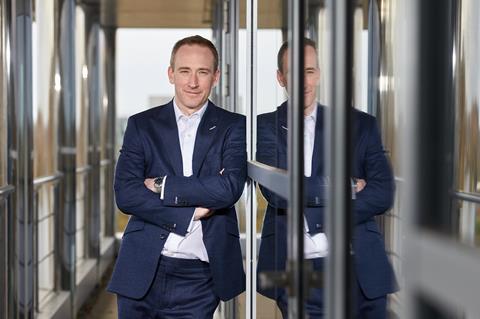 It is a good time to be boss of partnerships housebuilder Keepmoat. Tim Beale, chief executive of the Doncaster-based firm, which turned over just over £400m in a covid-hit last financial year, says the subsequent recovery has left it, metaphorically, fit as a butcher's dog.
"What we've seen since summer last year is a step change in people's thinking about where they live. We're sold out till October. It's our strongest forward sales position we've ever been in.
"If anything," he says, "I'm holding things back a little bit," adding that the business – which builds largely on public or housing association land in Scotland, the North of England and the Midlands – currently has just four unsold stock units completed. This compares with the 50 or so he would normally expect.
But, well, he would say that, wouldn't he? Especially, given Keepmoat, owned by private equity giant TDR Capital and Sun Capital since 2014, is widely understood to be in the middle of a sale process. The owners are understood to be assessing the relative merits of various bids for the firm – including, it was reported, from Kier Living buyer Terra Firma – against the possible returns from a stock market flotation.
But there are some reasons to give credence to the former Crest Nicholson executive's assessment. Not only is the housing market "on fire" – in the words of the chief economist of the Bank of England – but there is a renaissance of investor interest in the "partnerships" housing model which Keepmoat has in part pioneered. Just last month, in fact, rival Countryside bowed to investor pressure to jettison its spec housebuilding business in favour of growing its partnerships arm.
Beale was speaking just before reports of Terra Firma's interest emerged, discussing the future of the business, Countryside's about-turn and what it means to be the "original" partnerships housebuilder.
The City has really started to take notice [of partnerships housing] – that's because it's a really good model

Tim Beale
Unsurprisingly, Beale was reluctant to comment on speculation around a sale or flotation of the business. It is understood that Terra Firma's bid – reported by Sky News to be for £700m – is one of a number being considered, following the appointment of advisers Moelis & Co to market the firm for a sale. But while Beale does not want to get into names and detail, he does concede that the owners are "always looking at options" for what he describes as "a really robust attractive business".
He adds: "There's obviously speculation at the moment and I can't really comment – you wouldn't expect me to comment – around that speculation. Myself and the team have worked very hard to get Keepmoat into a very good place, so it's natural there will be speculation about its future – it's all positive. It's no secret that we're looking at all of our options."
The only guidance he does give is that observers should not necessarily assume that a sale has been decided upon, in preference to a flotation. He says: "I think the only fair answer to that is they are genuinely open-minded on that – they're genuinely open-minded."
So, if we can take it that some kind of buyer or shareholders will be found, what is it that the City is apparently finding so attractive? After all, the firm fell to a £20m pre-tax loss in the year to October 2020 as the coronavirus hit, with revenue falling 38% to £406m. Housing completions fell almost 40% to 2,460, down from more than 4,000 in 2019.
Tim Beale CV
1995-98 Studied for a BA in urban studies at University of Sheffield
1998-99 Studied for a diploma in town and country planning at University of Sheffield
1999-2000 Graduate trainee at Westbury (acquired by Persimmon in 2005)
2000-01 Land buyer at Alfred McAlpine.
2001-02 Land manager at Fairclough Homes (part of Centex)
2002-16 Started at Crest Nicholson as a senior land manager, then went on to development director, managing director, executive board director and regional chairman
2017- Joined Keepmoat Homes as divisional managing director, becoming chief operating officer and then deputy chief executive in February 2018; succeeded James Thomson as chief executive in January 2019
2019- Non-executive director at Ilke Homes
Source: LinkedIn
Furthermore, in the heat of the pandemic, the business was forced to call on investors and lenders for a £35m injection, including cash and loan extensions, to shore up its finances – albeit Beale insists that this was a precautionary move and that none of the funds were ever required. The business also restructured, making 27 staff redundant and closing its Luton office designed to serve sites in the South-east.
But in truth, those covid-affected 2020 numbers do seem a pretty distant memory, with the market bouncing back strongly since last summer – giving rise to double-digit house price increases on some sites, Beale says. The firm has already completed the sale of 1,903 homes in the first half of the current financial year (compared with 2,460 for the whole of last year), and has plans to grow the business "significantly" beyond pre-covid levels.
Certainly Keepmoat's business model, of building low-priced traditional homes for first-time buyers on "partner" sites, gives it ample opportunity to benefit from growth in the market – it is not all affordable housing.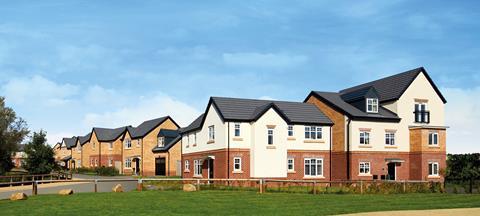 About two-thirds of the homes that Keepmoat builds are for private sale, with the firm boasting both a rock-bottom average selling price of £165,000 and a five-star quality rating from the Home Builders Federation. It differs from a traditional housebuilder in that, instead of sourcing land itself, most of its opportunities come via tenders from public bodies and registered providers, meaning it is able to draw down the land plot by plot as it builds homes, rather than tie up a huge amount of capital in a land purchase up front. It claims to be, for example, Homes England's largest partner over the past decade.
Even where it does buy land itself, Beale says, it negotiates a pre-sale of the affordable element to a housing association, again reducing the up-front cost. This capital-light model enables it to keep prices down while providing investors with a quick return on capital.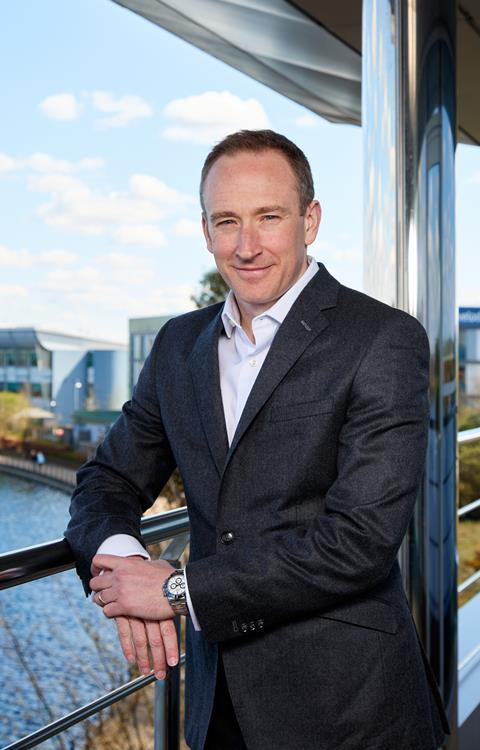 Keepmoat differs from the likes of Countryside and Vistry in that it only builds low-rise traditional housing – hence the decision to leave the South-east and London markets where high land values dictate higher-rise solutions. But, in a world where other firms are setting aside eye-watering provisions for repairs to high-rise homes, Keepmoat's traditional housing focus can be seen as a clear benefit.
And, while Countryside and Vistry, being listed, have generated a high profile for their partnerships businesses in recent years, Beale argues that Keepmoat is actually the "original" partnerships builder, able to trace the origins of the model back to the 1960s.
Cenkos analyst Kevin Cammack says there is no doubt that there is investor appetite for such businesses at the moment. "The capital markets are receptive to the idea of partnerships housing," he says. "In principle this would be quite welcome, if it can get a strong strategy and basis and justification lined up."
Beale agrees. "We have been doing this for a long time; we've probably kept the light hidden under a bushel in that regard.
"It's rightly attractive to investors. The City has really started to take notice [of partnerships housing] – that's because it's a really good model There's opportunity for a good margin, but a very attractive return on capital employed, and that's got to be of interest to any investor."
Beale was clearly interested by Countryside's decision to wind down its historic private housebuilding business – but claims not to feel threatened by all this new competition for its traditional customers. At the same time Vistry is intent on growing its partnerships offering to draw in £1bn of revenue next year, while Morgan Sindall-owned Lovell and a host of other smaller rivals are also reporting strong growth.
"We weren't surprised [by the Countryside announcement]. It's really an endorsement of this partnerships model as far as we are concerned. We think partnerships are a very attractive part of the market, and competition is a healthy thing. It will always be limited because you need a high skill set to play in this market."
Despite all the positives, Keepmoat is not without challenges. Its retreat from its Luton office to the south Midlands, which – in the words of last year's annual report – is an area "that has proved more suitable and successful for the Keepmoat business model", suggests a potential limit to its growth ambitions. And, like everyone, it is facing construction cost increases and trying to limit delays on site from labour and materials shortages – albeit Beale maintains any increases have been more than offset so far by sale price rises. "I am paid to worry about it," he says, admitting concern, "but I am not losing sleep."
[Help to Buy] is a part of the market the government will want to see thrive. I'm confident there will be some form of government support there
Most serious of all the challenges is probably the imminent cancellation of the government's Help to Buy policy, which is credited with fuelling the resurgence in the housing market after the global financial crisis, but which is set to come to an end in 2023. Of the two-thirds of Keepmoat's homes sold to private buyers, fully 63% took advantage of Help to Buy last year, Beale admits.
When asked what Keepmoat will do when the scheme ends, Beale's answer appears to be simply to hope that something else will come along. "It's a part of the market the government will want to see thrive," he says. "I'm confident there will be some form of government support there, if it's required."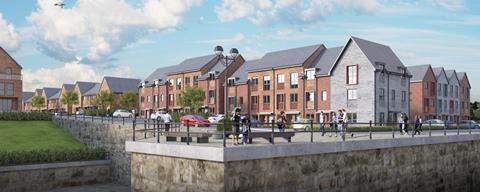 If that does not entirely convince, then Keepmoat's experience in Scotland, where Help to Buy has already been closed down, is perhaps more enlightening. "So far in Scotland we are still trading well. It hasn't really impacted us at all in a negative sense," he says.
Another potential storm cloud on the horizon is Homes England's decision to reform its procurement processes, scrapping the delivery partner panel under which Keepmoat has delivered 19,000 homes since 2009.
Homes England's executive director, Stephen Kinsella, was explicit earlier this year that the decision to replace the panel with a new "dynamic purchasing system" was driven by a desire to bring new partners and new entrants into the industry.
But again, Beale is not too concerned. He says he welcomes any changes that enable a wider range of development, but feels the changes are primarily aimed at giving a wider range of options for delivering small sites.
"When it comes to the major projects that we undertake, they are still complex," he says. "It's about having the right approach – great placemaking, great design, a competitive financial offer, delivering social value – all the other things we're very very good at, which set us apart and differentiate our bids.
"I don't think it will make much of a difference because there's not that many people with the skill sets to do it."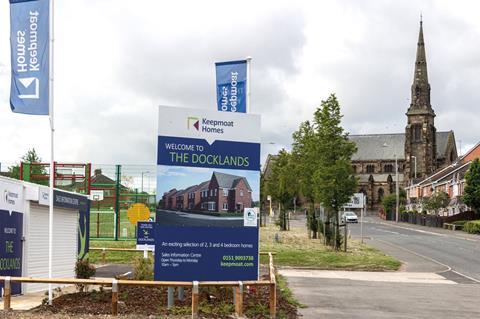 The business is also facing challenges from both the growth of modern methods of construction (MMC) – it has a partnership with Ilke but no offsite business of its own and no plans to develop one, despite the fact that 25% of Homes England's strategic partnerships funding is to go to MMC schemes – and potentially from the government's beauty agenda, where the stress on "gentle density" does not quite fit with Keepmoat's low-rise standard house types – however good Beale says the placemaking around the homes is.
His main bugbear, however, is the planning system which despite all attempts at reform, he describes as an "embarrassment" and "very frustrating". But, while he is supportive of government moves to reform it, he is not holding out much hope of anything significant changing, given the current political backlash.
"I hope it can be done," he says, "but I suspect it won't be. It's very tricky on a political level, as we can see at the moment."
None of these challenges, though, are enough to dampen Beale's enthusiasm for the business and its potential. "I'm an optimist", he says. And with bids for Keepmoat apparently coming in from a range of interested investors, who wouldn't be?