A reader writes: 'Cowboys wear suits as well as workwear in my experience'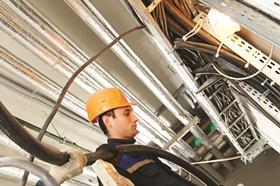 I read with interest the article entitled The Professionals (page 28, 29 January 2016) by James Wates and his comment that "when it comes to 'real' construction – that is to say the builders – professionalism is often less a reality and more an aspiration".
I appreciate the article was a challenge to all to improve but it is perhaps unhelpful to assume that all of the companies and individuals operating in the building industry are the same. Cowboys wear suits as well as workwear in my experience. There are examples of good practice at the "craft" end of the industry – for example, the electrical industry, which has for many years seen the value of robust self-regulation and is serious about its application. Working together, bodies representing the electrical installation industry and consumer safety interests set standards which in turn set the minimum requirements to be recognised as technically competent to undertake the design, construction, maintenance, verification and/or inspection and testing of electrical installation work. It is built around the requirement that firms shall only employ persons to carry out electrical installation work who are competent and/or adequately supervised to ensure safety during and on completion of the work. All of whom are professionals in their own right and for their areas of expertise and competences.
As an example, the introduction of the competent person scheme (CPS) in 2005 to regulate the domestic electrical market under Part P of the Building Regulations has been a great success. The government cited the Electrotechnical Assessment Specification (EAS) as the minimum technical competence for an enterprise to achieve to allow them to self-certificate their work.
Currently there are 43,600 enterprises who have been independently assessed by UKAS-accredited certification bodies against the requirements and are operating under these requirements. Between 1 April and 30 September 2015, 726,620 pieces of work were notified through the applicable local authorities as complying with the Building Regulations. And it's not just that they are technically competent, insurance is required and a customer complaints process has to be in place.
In summary, they have to be well-run firms. Hardly a lack of professionalism in the electrical industry but clearly a model to be celebrated and considered by others.
Chris Beedel, via email