Dunard Centre was subjected to legal challenge and redesign
Sir Robert McAlpine will start work next year on Edinburgh's first purpose-built concert hall for 100 years after it was passed after a bruising planning process.
The £75m project by David Chipperfield Architects and Reiach & Hall was nearly derailed by an aggressive legal challenge by the developers of the £850m St James Centre, a neighbouring shopping centre and hotel complex masterplanned by Allan Murray Architects with BDP and Jestico & Whiles, nicknamed the Big Jobbie by hostile locals. It is being built by Laing O'Rourke.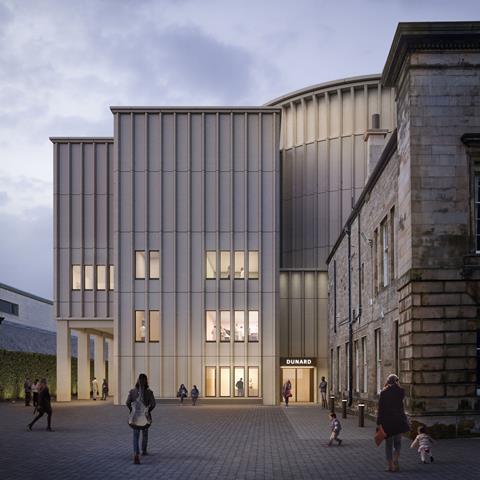 The concert hall, on St Andrew Square in the city's World Heritage Site, was granted planning in April 2019 after a five-hour debate and knife-edge vote. It was then budgeted at £45m.
Three months later Nuveen Real Estate, developer of the St James Centre, petitioned the court for a judicial review, claiming the council had failed to follow proper procedures in granting consent. It objected to the scale and massing of the proposed concert hall.
Work was paused while the parties entered mediation and in January 2020 Impact Scotland, the promoter of the Dunard Centre, announced they had reached an agreement which involved a redesign.
The revised building – approved yesterday by Edinburgh's development management sub-committee – is 7m lower and has lost its domed roof and a 200-seater studio but still contains a 1,000-seat concert hall which can be used for classical and contemporary performances.
Fergus Linehan, co-chair of Impact Scotland and chief executive of Edinburgh International Festival, said the decision was "fantastic news for the city and for music in Scotland".
The hall would fill a gap in the city's cultural infrastructure that deterred some artists from performing in the Scottish capital despite its international festivals, he said.
The building will sit behind Dundas House in St Andrew Square, the 1774 home of Sir Lawrence Dundas which became part of the Royal Bank of Scotland estate in 1825. The banking hall, considered an architectural jewel, will be directly linked to the complex. The bank is backing the project.
Chipperfield and Reiach & Hall beat Adjaye Associates, Allies & Morrison, Richard Murphy Architects, Swiss practice Barozzi Veiga and Canadian firm KPMB Architects to land the project in 2017.
Work is scheduled to take around three years.