Firm hails investment in strategic land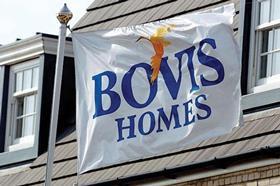 Bovis Homes Group has reported a growth in operating margin to 13.5% in 2012.
In a statement to the City ahead of its full results next month the firm reported itis margin had increased to 13.5% from 10% in 2011.
It also said completions had increased 15% to 2,355, up from 2,045 the previous year. Plus, it said its average sale price has increased to £170,700 from £162,400 over the period.
It said that as a result its pre-tax profit was likely to be ahead of market expectations of £51m.
David Ritchie, chief executive of Bovis Homes, said the results were driven by "investment in high quality consented and strategic land".
He added: "This strategy will be further progressed in 2013, which, subject to stable market conditions, should deliver strong improvements in the group's returns in 2013 and beyond."
The firm said it already had forward sales of 778 homes at the start of 2013, a 37% increase on the 568 forward sales it had at the beginning of 2012.