Dozens of manicurists in Stoke are attracted by ambiguously worded ad placed by builder's merchant
Beauticians in Stoke-on-Trent were left disappointed when a job advert for a nail technician turned out to be posted by a builder's merchant looking for someone to sift through building waste.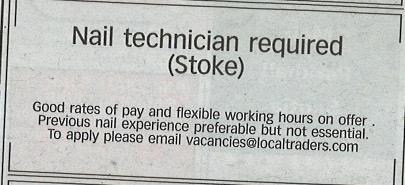 The ambiguously worded ad was titled "Nail technician required" and stated that previous nail experience was preferable but not essential.
The vacancy appeared in local newspaper The Sentinel and attracted dozens of applications from under-employed manicurists.
The ad was placed by local tradesmen finding service LocalTraders.com. A spokesman for the site said it realised the advert may have been misinterpreted when CVs started to appear from young women with totally unsuitable CVs.
The builder's merchant was looking for someone with a detailed knowledge of nails to sift through leftover stock.
The site spokesman said: "We couldn't believe what we were reading when we looked through some of the applications. Many talked about the experience they had and the different manicure techniques they could offer - which of course would be about as useful as a chocolate teapot on a rough and ready builder's yard.