Plans will transform site of old American Express HQ in city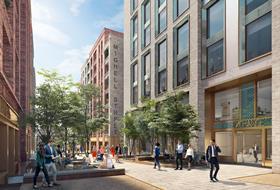 Planning consent has been given for a £100m development on the site of the former European headquarters of financial services giant American Express in Brighton on the south coast.
Brighton & Hove city council has approved plans by developers First Base and Patron Capital for a new mixed-use scheme (pictured) that will deliver 160,000ft2 of offices and retail units, plus 168 homes.
The development, on the site of American Express' headquarters building which was demolished in 2016, has been designed by Buckley Gray Yeoman, responsible for the re-vamp of One Poultry in the City of London which was completed earlier this year.
First Base and Patron Capital acquired the former Amex House site in 2017.
­­