Other firms dragged into North-east hospital row include Balfour Beatty and architect Keppie Design
A £140m dispute between an NHS trust and Lendlease over allegations that a hospital built in 2015 requires so much repair work that a temporary replacement needs to be built while this is carried out is due to begin in the High Court this autumn.
Other firms that have been dragged into the row between Northumbria Healthcare NHS Trust and the Australian contractor include M&E giant Balfour Beatty Kilpatrick, architect Keppie Design and roofing company Briggs Amasco.
In all, nine firms have been issued with Part 20 claims by Lendlease Construction (Europe) and co-defendant Lendlease Construction Holdings (Europe) in the dispute which centres on allegations that a specialist emergency care hospital in Cramlington, just north of Newcastle, needs such an amount of remedial work that a temporary four-storey hospital, costing £73m, needs to be built while it is fixed.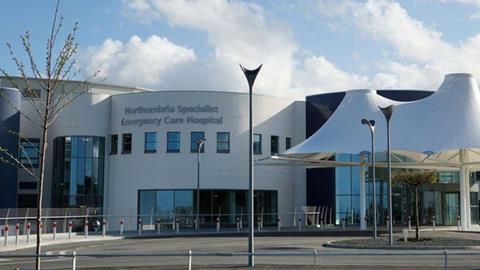 The claim was issued by the NHS trust just before Christmas 2019 with Lendlease issuing part 20 claims against nine firms the following year.
The 210-bed hospital was completed under a PFI deal in 2015, with Lendlease having won the £70m job in 2012. The facility has emergency care consultants on duty 24/7 and a range of specialists available seven days a week.
Announcing Lendlease's appointment, the trust said at the time: "The pioneering new hospital will, for the first time in the country, have specialists working around the clock. It will mean a step change in the way emergency patients are treated."
In a judgement handed down yesterday by Mrs Justice O'Farrell in the Technology & Construction Court, a trial date has now been set for 24 October this year having first been slated for the beginning of 2022.
Several claims have already been settled but outstanding matters still in dispute include an £11m claim over external walls, £1.5m of fire protection defects and a further £11m in disputes over internal partitions and door frames.
Court papers state that the trust's and co-claimant Northumbria Healthcare Facilities Management's "total claim is for damages in the sum of £140m approximately. A large part of the claim, some £73m, is claimed as the cost of 'the decant scheme', comprising the decanting of the hospital into a specially constructed four-storey building during the proposed remedial works, so that the hospital can continue to function and maintain the level of care necessary for patients subject to critical or emergency medical conditions."
Other firms that have been issued with part 20 claims by Lendlease include BBK's parent Balfour Beatty, drainage firm MPB Structures and drylining firm Horbury.
The trust claims that a broad range of defects have been found at the hospital including problems with floor slabs, pipework, fire protection, drainage, the roof and the hospital's helipad.
The trial was originally listed to begin on 12 January but was then rescheduled to early October before being pushed back a further three weeks. It is expected to last 10 weeks.
The trust said the latest hearing, the fifth in the dispute, was a routine case management conference and added: "The parties remain in litigation."
A spokesperson for Lendlease said: "Work on Cramlington Hospital was completed in 2015; and we've remained on site and continued to work with Northumbria NHS Trust since that time in order to address any defects that have emerged, during which time the hospital has remained open and fully operational. As this matter is currently subject to legal proceedings it would not be appropriate for us to comment further."