Plans for University of Northampton scheme boosted by compulsory purchase order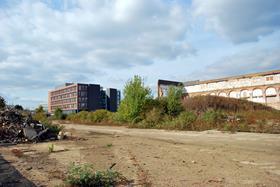 Plans for the University of Northampton's £330m new campus have taken a step closer to reality after Eric Pickles approved a compulsory purchase order for land on the site.
Pickles, the secretary of state for communities and local government, approved the purchase of land for a road through the site, currently part-owned by developers Taylor Wimpey and Persimmon.
The developers reached an initial deal on the land last November.
Nick Petford, vice-chancellor at the University of Northampton, said he was "delighted" with the decision.
He added: "This compulsory purchase order places the University one step closer to realising our plans to create a state-of-the-art Waterside Campus; placing the University in the heart of the community."
Construction is scheduled to start in 2015 with completion in 2018.