Over 1,000 sites, offices and production facilities are taking part in safety awareness campaign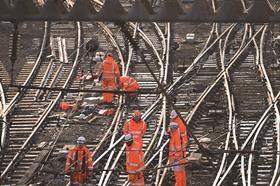 Up to 60,000 people from across the UK's infrastructure sector are taking part in a mass stand-down event today.
The Stop. Make a Change event, organised by the Civil Engineering Contractors Association, is aiming to highlight the key health and safety challenges facing the industry.
Over 1,000 sites, office and production facilities are taking part with over 50 organisations siging up to support the initiative.
At least 30 organisations are making specific commitments related to mental health, fatigue, plant safety and respiratory health.
Stop. Make a Change is also supported by CITB's Structured Fund as part of Infrastructure 21, a Civil Engineering Contractors Association-led project to help ensure that civils suppliers are primed ready for expected growth in the sector in the coming years.
CITB chief executive Sarah Beale said: "It's great to see so many employers getting behind this important campaign. While we know that there has been sustained improvements in health and safety in recent years, there is much more to be done.
"Stop. Make a Change signals a new, heightened awareness of health and wellbeing issues among construction firms and their employees across the UK, which CITB is pleased to support."
Civil Engineering Contractors Association chief executive Alasdair Reisner said: "When we first started planning Stop. Make a Change we hoped that we might get up to 10 companies and a few thousand employers involved in this first year.
"The response from industry has been tremendous, with a real desire to use the event as an opportunity to deliver positive change across the sector. We are looking forward to events today, and the health, safety and wellbeing improvements that they will drive".