Aberdeen council votes down Diller Scofidio & Renfro's controversial development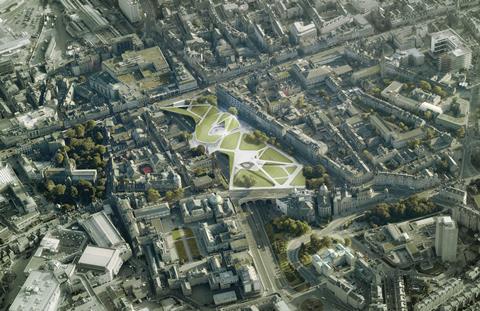 Diller Scofidio & Renfro's £140m Aberdeen City Garden Project has been scuppered after the controversial plan was narrowly voted down by the city's council.
Councillors voted 22-20, with one abstention, to reject the futuristic City Garden Project, dubbed the 'Granite Web', which would transform the historic Union Terrace Gardens.
The move came after residents of Aberdeen voted in favour of the controversial plans in a referendum in March, with 45,301 residents of Aberdeen voting in favour of the plan and 41,175 voting to retain the existing gardens.
The project was backed by city businessman Sir Ian Wood, who was offering up to £85m towards the scheme.
Following an architectural competition, designs for the City Garden Project were drawn up by US architect Diller, Scofidio & Renfro and Scottish firm Keppie Design.
Opponents call the scheme unaffordable, and question the need to develop an existing area of green space.
The council will now instead bring forward new proposals to regenerate the city centre, including plans to refurbish Aberdeen Art Gallery, redevelop the site of the City Council's former St Nicholas House headquarters and the Upper Denburn area, and to invest in 'City Circle' plans to make the city centre better connected for pedestrians.
The council also voted in favour of revising the proposed Tax Incremental Financing (TIF) scheme, meant to support the Garden City project, to support to refurbish Aberdeen Art Gallery. They also voted in favour of exploring additional projects as part of a reworked TIF scheme, to include financial help for:
the Mither Kirk restoration project;
refurbishment of the Music Hall and Aberdeen Arts Centre;
redevelopment of the Lemon Tree;
regeneration of Union Street;
improved access and better facilities at Union Terrace Gardens
Council Leader Councillor Barney Crockett said: "We are extremely keen to work with everyone to deliver our vision for city centre regeneration, without the divisive City Garden Project which never won the whole-hearted acceptance of the people of Aberdeen.
"I am certain that we can make widespread and significant improvements to the city centre which are affordable and sustainable, and which do not require us to make massive borrowings.
"I hope everyone in this city - the citizens of Aberdeen, the business community and politicians of all parties - can now start afresh and support us to the hilt as we focus on the improvements we propose and on becoming UK City of Culture in 2017."
Councillor Boulton said: "This new approach to city regeneration will concentrate on protecting our outstanding architecture and heritage, while at the same time delivering substantial improvements to our existing cultural venues.
"By spreading investment across several exciting projects, including Union Terrace Gardens, we can really put a shine on the Granite City and make a powerful bid to become UK City of Culture.
"Aberdeen has been split down the middle for so long over the City Garden Project. This is a chance to heal the wounds and to come together for the good of the city."