Disposals and acquisition costs see engineer's pre-tax profit tumble 29%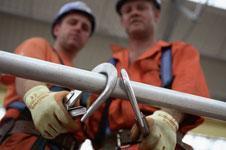 Engineer Amec has reported a 29% fall in profit after it incurred £26m of costs related to its acquisition of engineer Foster Wheeler in January.
In a statement to the City this morning, the firm reported a pre-tax profit in the six months to 30 June 2014 of £83m, down 29% from £118m over the same period last year.
The fall in profit was made worse by £65m of exceptional items – when these were taken out of the firm's figures it reported a 4% fall in profit to £148m, down from £154m in first six months of 2013.
The largest exceptional items were a loss of £20m on the disposal of the firm's investment in its Lancashire Waste project and £26m of costs related to the acquisition of Foster Wheeler.
Amec was also hit by the strength of the pound which wiped £160m off its revenue in currency exchange costs. It reported a 7% fall in revenue to £1.85bn down from £2bn.
The number of employees at the firm fell to an average of 27,032 in the first half of this year, down from 28,928 over the smear period last year.
The firm said it expected to see "modest underlying revenue growth in 2014 for our existing operations" primarily led by its clean energy and Middle Eastern oil and gas businesses.
It added: "The mix of business will result in a slight reduction in group margins compared to last year. As in 2013, profits and cash flow generation will be second-half weighted."