Scheme to go in to city planners later this year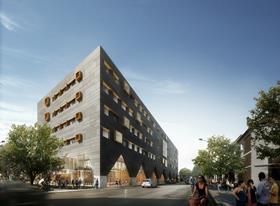 Cardiff University is consulting on plans for a six-storey building designed by Adjaye Associates in conjunction with Stride Treglown.
The 10,000m² development would bring together the School of Computer Science and Informatics and the School of Mathematics.
The building will allow both departments to expand and provide better opportunities for joint research. The site is currently a university car park next to Cathaways station and Cardiff university's students' union.
Features are being incorporated into the design to reduce the visual and physical impact of the scheme for local residents. The scheme will also include landscaping and improved pedestrian links between the students' union building and nearby Cathays Station.
Professor Rudolf Allemann, pro-vice chancellor and head of physical sciences, said: "The new building will pioneer a way of working for the university which embodies collaboration and shared vision while retaining the distinct identities of the two schools."
The university will submit a planning application to the city council after the consultation ends in late August.
The project is part of a £260m campus upgrade, including a Centre for Student Life which will house student support services, consultation rooms and a 550-seat auditorium.
Bam is carrying out pre-construction work with main construction due to be completed by 2020.