Architect says £100m scheme will be 'crucial civic asset' after minister granted consent
David Adjaye has spoken of his "profound relief" at the government's decision to approve the Holocaust memorial and education centre which he designed with Ron Arad Associates.
The architect described last week's announcement as a "huge milestone" and predicted the project would become a "crucial civic asset" for the UK.
He added: "Our entire team has been driven by the conviction that this memorial and learning centre is a crucial civic asset for Britain's future generations – that there is a paramount importance in a society acknowledging its mistakes. [The] decision is a huge milestone in bringing this project to reality."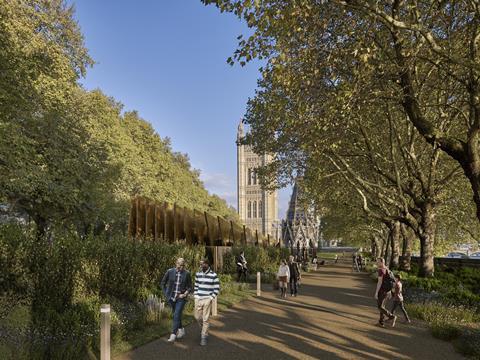 At the same time, the £100m scheme's opponents vowed to use their right to appeal. They have six-week window in which to challenge the decision by applying to the High Court for leave to bring a statutory review.
Baroness Ruth Deech, a witness at the inquiry for the opponents, said: "The decision to approve the current proposals … is divisive. Last autumn's public inquiry raised serious concerns about the plans' impact on heritage and a valuable public park, as well as raising issues of flood risk, security and damage to mature trees.
"We passionately believe that the Holocaust should be remembered but we believe that this [a] ill-considered and damaging proposal."
The government said work would start on site later this year with an anticipated completion date of 2025.
The scheme, which is also opposed by Westminster council, has been revised a number of times over the years and then called in by ministers and scrutinised at an online public inquiry in October and November last year.
The government committed £50m to the project in 2015 before a site was chosen. In 2019 it announced an additional £25m of government money which it said must be matched by charitable donations.