Firm set to cease trading by end of month owed £22m at time of collapse
Cleveland Bridge first approached a restructuring specialist about its worsening financial problems at the start of this year, months before the firm sank into administration owing creditors nearly £22m.
The steelwork contractor's finance director Phil Heathcock contacted FRP Advisory in January about getting hold of more working capital to allow it to keep trading in the latter part of this year.
FRP was told Cleveland Bridge bosses were "confident…any funding shortfall would be met by ARPIC" – the Saudi Arabian oil and gas business which has owned the firm for close to 20 years.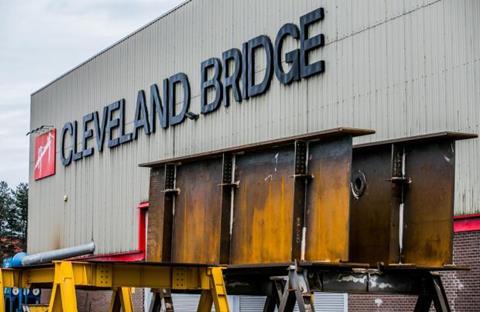 Turnaround specialist Kingsgate, which was brought in at the beginning of June, around which time Cleveland Bridge's managing director Chris Droogan handed in his resignation, estimated the firm was facing a funding shortfall of £12m.
But Heathcock, who documents filed at Companies House show stepped down as a director at the beginning of the month, told FRP on 16 July that "ARPIC had declined to provide any further financial support. Heathcock advised that the company would therefore be unable to pay wages the following week and that he now considered insolvency inevitable."
After a final approach was made to ARPIC to "request finding to avoid administration" FRP was formally appointed on 22 July as administrator after finance firm 4Syte, which provided the contractor with £4m of emergency funding in June, called them in.
An administrator's report filed at Companies House this week, laid bare some of the issues Cleveland Bridge said it had run into which meant its finances deteriorated rapidly.
These included a £1.7m bill to cover the cost of the pandemic, the rise in steel prices, delays on jobs caused by the pandemic and an estimating blunder on a £11m scheme which meant the job, which made up the majority of its production hours at its Darlington facility in the first three months of this year, was being done at zero gross profit.
It said margins had been hit by paying for overtime working and agency staff after work on jobs restarted following the lifting of lockdown restrictions while "a significant high margin overseas contract" had been delayed by a political coup.
According to the FRP report, 4Syte is a secured creditor and is owed £2.24m which FRP said it expected "will be repaid in full". ARPIC is owed around £8m but has been warned to not expect all of it back.
Preferential creditors including the firm's 227 staff are owed £401,000 in missing wages, holiday pay and pension contributions while HMRC is owed a further £2.5m. FRP said: "It is anticipated that there will be a distribution available to preferential creditors."
But unsecured creditors, owed a total of around £8m, have been told to forget about any hope of getting their money back.
The report, which shows that more than £250,000 of furlough money from the government's Coronavirus Job Retention Scheme has been paid to workers sent home during the administration, also shows that HMRC has a further £425,000 owed in an unsecured claim over missing National Insurance contributions.
In all, the amount owed by Cleveland Bridge at the time of FRP's appointment was £21.6m. It added that the firm was set to post a £3.6m loss last year, a significant widening on the £157,000 loss it racked up for 2019.
It added that Cleveland Bridge is owed more than £800,000 on an uncompleted contract with the same scheme having performance and tender bonds totalling £1.8m. It added: "The recovery of these bonds is dependent upon the contract being completed, which at present is uncertain."
Last week, FRP said that hopes of finding a buyer for the stricken firm, founded in 1877, have to come to nought with the business set to shut for good by the end of the month.