Labour shadow infrastructure minister makes call as Lord Heseltine confirms interest from HS1 owners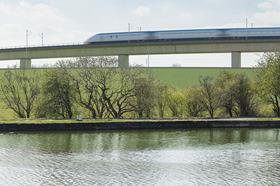 Lord Adonis, the Labour shadow infrastructure minister, has called for the planned £42.6bn HS2 link to be delivered in one phase rather than two so that the north of the UK sees the economic benefits of the line more quickly.
Speaking at the launch of the Institution of Civil Engineers' (ICE) State of the Nation report, former transport secretary Lord Adonis, seen as the architect behind the scheme, said: "At the moment we have a huge technical bill going through parliament, and then we will have another one for the second phase, but there's no need to break the project in two, it can be integrated in to one project. This requires urgent attention, but could be achieved by ministers in a matter of weeks."
Adonis' comment came as ICE's report called for "accelerated development of high-speed rail from London to northern England and Scotland", though overall it gave the UK's strategic transport infrastructure a grade "B", rating it as "adequate for now". His comments will reassure the industry following concerns that a Labour administration would seek to cut the scheme, after Ed Balls, shadow chancellor, last year said a Labour government would not "sign a blank cheque" for HS2.
Speaking at the same event, Lord Heseltine, former deputy prime minister, criticised the way the Treasury had evaluated the case for HS2, saying it had not considered the potential returns for the tax-payer that would be available from selling the scheme to private sector investors once completed.
Heseltine confirmed reports from earlier this month that the owners of HS1, a joint venture between the Ontario Teachers' Pension Plan and Borealis Infrastructure, had expressed interest in buying HS2 after completion. He said: "I have a letter from the people who bought HS1 and they say they're interested in buying it [HS2]. If you took it pro-rata to the cost of HS1 then HS2 would be worth £10bn."
Heseltine said the scheme was too important to be decided by "consultants predicting and measuring and costing projects in the minutest details" when they couldn't possibly predict the market in 30 years' time.