Consultants retained to work up plans for the restoration of badly rundown buildings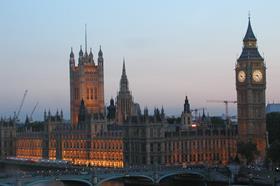 Aecom, Deloitte and HOK will publish their recommendations for the restoration of the Houses of Parliament next summer.
The trio of consultants were appointed last December to draw up options for restoring the Houses of Parliament - which could involve the temporary or partial relocation of MPs and peers for a minimum of five years during the works.
The Deloitte-led consortium said today it has been reappointed to complete their appraisal and it expects Parliament to assess its recommendations from next summer, with a decision taken on what to do by spring 2016.
BBC Newsnight reported last month that restoring the badly rundown Palace of Westminster, popularly known as the Houses of Parliament, could cost more than £3bn, with major issues to be tackled including crumbling facades, large quantities of asbestos, leaking pipes and miles of outdated wiring and cables.
The 1870-built Gothic-style building took 32 years to build and was plagued by problems during construction, as covered by this magazine at the time.
Deloitte, Aecom and HOK will be retained through to spring 2016 and will work on detailed designs once their report is published in the summer.
These studies are beginning now so Parliament is ready to commission design work once a decision has been made, with a potential 2020 or 2021 start date for works.
Dr Richard Ware, programme director for Palace of Westminster Restoration and Renewal, said: "The building is getting older faster than we're able to deal with it. We are bringing in the necessary expertise to advise on repairing this historic building of national importance so that it is equipped for the future."
Alex Bell, the consortium's Programme director and a partner of Deloitte Real Estate, said: "It is clear that the UK's most iconic national treasure is in need of significant investment and it's been a privilege to help build a picture of understanding."
John Hicks, director and head of government and public sector at Aecom, said: "Other major public projects consistently demonstrate that effort put into early planning is rewarded later with better assurance around delivery.
"The Olympics and Crossrail are testimony to this approach. A focus on shared goals and a real spirit of collaboration between the public and private sector have also contributed to the success of the programme."