Exclusive: Firms will oversee redevelopment of Al Rayyan venue, including extending capacity and adding 'digital skin'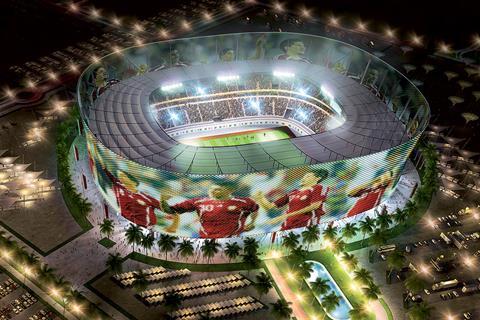 Consultants Aecom and Ramboll have scooped lead roles on the redevelopment of Qatar's Al Rayyan stadium for the 2022 football World Cup, Building can reveal.
Aecom and Ramboll will oversee the extensive redevelopment of the stadium, including extending its capacity from 22,000 to 40,000 and wrapping it in a "digital skin" capable of displaying scores, information and photographs of players and fans.
Aecom has been appointed project manager, while Ramboll has been appointed design consultant.
Ramboll will work alongside London-based sport architecture practice Pattern on the stadium design and architect Pascall + Watson and landscape architect Gillespie, also both from London, on the surrounding precinct.
Design experts from both Aecom and Ramboll's UK offices are expected to be involved in the Al Rayyan project.
The project is the second Qatar World Cup stadium to be allocated a design team, after Aecom and Zaha Hadid won the 40,000-seater new-build Al Wakrah stadium in November.
Further design team appointments to the remaining 10 stadiums - including the 86,000-seat Lusail stadium, which will host the 2022 World Cup final - are expected soon, starting this month.
Like Al Wakrah, Al Rayyan stadium will feature advanced cooling technology and a demountable top tier of seating, allowing its capacity to be reduced back down to 22,000 seats after the World Cup.
Aecom and Ramboll will also oversee development of training sites, an adjacent fan zone and other areas for fans, team delegations, match officials and the media.
All contracts on the Al Rayyan stadium will incorporate contractual standards to enforce the safe treatment of workers, as set out in the Qatar 2022 workers' charter.
Hassan Al Thawadi, secretary general of Qatar 2022 World Cup client the Supreme Committee for Delivery and Legacy, said: "We are rapidly making progress, [and are]well on schedule to deliver all stadiums long before fans arrive for the 2022 Fifa World Cup."
Al Rayyan stadium is in a western suburb of Qatari capital Doha and will host group, last 16 and quarter-final matches during the World Cup.
The redeveloped stadium will incorporate advanced cooling technology capable of cooling the field of play to an optimal 26ºC and the stands to between 24ºC and 28ºC, even in the height of the Qatari summer, when temperatures can reach 50ºC.
The Supreme Committee for Delivery and Legacy is continuing, for legacy reasons, to commission the design of stadiums that can be used in the Qatari summer despite mounting evidence that Fifa will move the tournament to the winter when temperatures are cooler.
Following the World Cup the modular upper tier of seating will be disassembled and used to build football facilities in developing countries that lack sporting infrastructure.
Aecom and Ramboll, headquartered in the US and Denmark respectively, both have significant UK businesses, in part thanks to their respective acquisitions of UK consultants Davis Langdon and Gifford in 2010 and 2011.
Overall Qatar 2022 programme manager CH2M Hill will supervise work on Al Rayyan.