Firm returns to profit following years of restructure and redundancies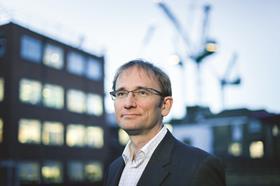 Engineer Ramboll's UK arm has reported a full-year profit for the first time since 2010, its latest accounts reveal.
In accounts filed at Companies House, Ramboll UK Limited reported a pre-tax profit of £1.3m in the year to 31 December 2013, up from a pre-tax loss of £6.8m the previous year.
Ramboll UK also reported a 5% rise in revenue to £63.7m in 2013, up from £60.4m in 2012.
The rise in revenue was driven by the UK arm's international work. Revenue from outside the UK increased 85% to £12.2m in 2013, up from £6.6m in 2012.
This more than offset a 4% fall in UK revenue to £51.5m, down from £53.8m the previous year.
In the accounts Steve Canadine (pictured), managing director of Ramboll UK, said that 2013 had been a "turnaround year" for the firm and the "modest return to profit" was "a result of strengthening commercial focus in the business".
He said: "The integration of Gifford absorbed considerable organisational effort and energy in 2011 and 2012, and now the integration aims of improving profitability, growing our order book and increasing our international portfolio are being realised."
Canadine said "confidence" in the firm's markets had returned and Ramboll was looking to "enlarge and strengthen" its capabilities in the energy, buildings, rail, aviation and environmental markets.
He forecast that international work would grow to 28% of the firm's workload in 2014.
The number of employees also increased dramatically to an average of 949 in 2013, up from 809 in 2012.
However, Ramboll still incurred redundancy costs of £58,000 in 2013, though this was substantially less than the £980,000 of redundancy costs it incurred in 2012.