Consultant to be project manager and cost advisor for Clydebank project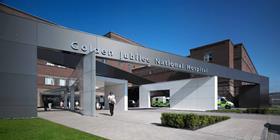 Aecom has been appointed project manager and cost advisor on the development of a new elective care facility at the Golden Jubilee National Hospital in Clydebank, near Glasgow.
In November, Kier Construction Scotland was appointed as the contractor on the £34.5m project, with a planned opening in 2020.
Phase one will deliver an integrated ophthalmology unit with its own outpatient consultation and pre-operative assessment areas, which will be combined, as well as cataract procedure rooms and an admin area.
The vacated theatres would then be refurbished to create additional general surgery theatres and a further Post Anesthetic Care Unit (PACU).
Phase two will deliver additional theatres for orthopaedic surgery and support accommodation.
The project builds on Aecom's relationship with the Golden Jubilee Foundation over the past five years, which has seen it deliver MRI suite re-development and masterplanning services.