Firm takes ownership of cement plants in Staffordshire and Northern Ireland as part of the Lafarge Holcim mega-merger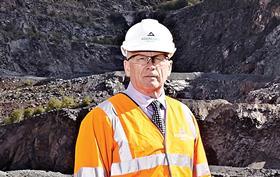 Aggregate Industries has expanded into the UK cement market by taking ownership of Lafarge's UK cement plants following the merger between Lafarge and Holcim.
Aggregate Industries - previously part of Holcim, now part of the combined LafargeHolcim group - has taken control of plants in Cauldon, Staffordshire and Cookstown, Northern Ireland.
It has also acquired a quarry at Cauldon Low in Staffordshire and a cement terminal in Belfast Docks in Belfast, Northern Ireland.
The transfer of ownership to Aggregate Industries was completed yesterday, with the 250 currently employees working at the plants becoming employed by the firm.
Pat Ward, Aggregate Industries chief executive, said: "Along with the wider benefits of being part of the new LafargeHolcim group, the integration of cement production represents a significant strategic opportunity for us."
Aggregate Industries' cement division will be led by Joe Hudson, who will become the firm's managing director for cement and concrete products.
Hudson joins the firm from Lafarge, where he has worked since 2001, and has previous experience of running a cement business having previously worked as managing director and CEO for Lafarge Wapco Plc in Nigeria.
He was heavily involved in preparations for the LafargeHolcim merger as group senior vice president for organisation and development at Lafarge.