Mipim latest: 75,000ft2 development set to start on-site in summer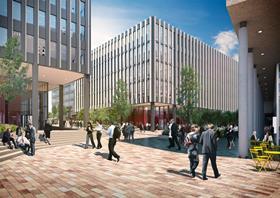 Airport City Manchester has unveiled proposals for the first "major" office scheme at the commercial, logistics, and advanced manufacturing hub at Manchester Airport.
The joint venture partners behind the scheme said Argent had been appointed as development manager for the 75,000ft2 Bennetts Associates-designed building, which will form a key element of the project's central business district.
Speaking at the Mipim property fair in Cannes, Manchester Airports Group chief executive officer for property, Lynda Shillaw, said the new office building would sit alongside a 350 bedroom hotel, which already has planning permission, and form a crescent around the first phase of public realm on a site adjacent to the recently expanded Ground Transport Interchange.
"We recently announced a speculative logistics scheme at Airport City's global logistics site and our commitment to another spec building reflects our belief as a joint venture in the quality of our offer, and the strength of the region's economy," she said.
Construction of the new office building will start on site in the summer and it is expected to be ready for new occupiers at the end of 2016.
Airport City Manchester is a joint venture between Manchester Airports Group, Beijing Construction Engineering Group and the Greater Manchester Pension Fund.
The project envisages delivering 5m ft2 of office, logistics, hotel, retail, and advanced manufacturing space over the next decade.