Experts warn that continuing indecision on airport capacity is endangering UK construction's global reputation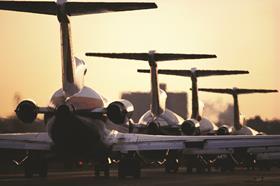 The continued delay in government policy on where new airport capacity should be built is endangering the UK construction industry's place as a global leader in airport design and building, experts have claimed.
Last week, Sir Howard Davies launched a review of the UK's airport capacity, saying he wants to build a consensus about what should be done on the issue. However, the independent commission he heads is not scheduled to report until after the 2015 general election.
Alan Lamond, vice-chair of the British Aviation Group and director at architect Pascall + Watson, said the lack of clarity over the future of the UK's airports was leading clients "to question whether we are serious aviation players".
Our expertise is being eroded by the impasse that is being created

Alan Lamond, British Aviation Group
A recent survey by the British Aviation Group revealed that its members, which comprise 180 UK construction and service firms, have collectively worked on all of the world's 60 busiest airports.
"The British are world class in airport consultancy, in design, legal expertise and accounting. We are going to find our expertise being eroded by the impasse that is being created," Lamond said.
Michael O'Callaghan, director of aviation at contractor Morgan Sindall, said the lack of a clear UK aviation policy was deterring private sector investment in the UK's aviation market, and the capacity constraints and lack of connections were creating in barriers to UK global competitiveness.
"This is negatively affecting our world leadership in the aviation sector. […] The continuing impasse will have further negative effects on [the UK's] world-leading engineering, architectural, construction and service-based aviation businesses."
He said foreign firms were better placed to pick up work in their own markets and UK expertise would be lost to foreign firms if that was where the jobs were. "You can only lose leadership once," he added.