Strong result for cost consultant founded by six former Davis Langdon and EC Harris directors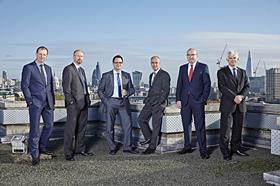 Cost consultant Alinea has hit £5.5m turnover in its second full year of trading to April 2015 and now has projects worth £5bn in terms of construction value on its books.
Alinea was founded by six former directors of Davis Langdon and EC Harris in May 2013 - Paul Allen, Iain Parker, Steve Watts, Paul Zuccherelli, Mark Lacey and Richard Taylor.
It has grown to 60-strong with recent major wins including 22 Bishopsgate - the Lipton Rogers tower planned for the Pinnacle site in the City of London.
The firm is working on 10.9 million ft2 of office space, 5.7 million ft2 of retail space and 4,767 residential units, as well as student accommodation and hotel projects. It has already procured over £1bn of construction work.
Parker told Building the firm is on course to turn over £7m to £7.5m in the current financial year and expects to hit £10m turnover and be 80 to 90 people strong by year five.
Parker said two of the key focuses for the business at present were not overstretching the business and gearing up its research output - with papers on BIM, comparing New York development to London, tall buildings and the MEP sector in the pipeline.
Parker said the firm sometimes had to turn down work, adding: "We won't be tempted to take on more work than we can cope with. Service excellence is something we will never compromise."
The firm moved to a larger office in the Square Mile's 90 Cannon Street building at the end of 2014 to enable further expansion of the business.
Alinea is continuing to explore opportunities to work in the US through its alliance with New York-based firm Dharam Consulting.
Alinea's partnership has expanded by two, to eight, with Nick Mulholland and Kerry Short joining as partners.