Firms, both of which have roots in Davis Langdon, say agreement will allow them to access new markets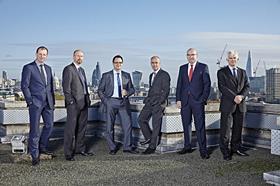 London-based cost consultant Alinea has signed an alliance agreement with New York-based firm Dharam Consulting.
Alinea – formed by six former directors of Davis Langdon and EC Harris in May 2013 (pictured) – said the alliance would enable both consultants to access new markets, partner on international jobs and share data, market intelligence and working practices.
Dharam, a cost consultant, was formed in late 2013 by former Davis Langdon directors Harpy Lally and Andrew Smith and also has offices in Boston, Philadelphia and Washington DC, with plans to expand across the rest of the United States and Canada.
Alinea partner Steve Watts said: "We think this alliance will excite our clients and staff. This is a wonderful opportunity to create a fleet-of-foot but genuinely joined up alliance with people whom we know and trust."
Watts said Alinea is on course to turn over £4m-4.5m in its second year of trading to 30 April 2015, after turning over £2m last year, and is now 45 strong.
Alinea has also hired former Davis Langdon and Mott Green Wall MEP cost consultant and director Nick Mulholland to develop its MEP business.