£80m turnover Manchester firm has been going since 1960s
Manchester contractor Bardsley has become the latest regional contractor to collapse.
All 200 staff were made redundant as the firm, which has an £80m turnover, went into administration this morning.
Bardsley also has an office across the Pennines in Leeds and has been going since the mid-1960s.
Duff & Phelps has been appointed administrator of Bardsley Group, Bardsley Construction Limited and Bardsley Construction Holdings.
According to a LinkedIn post, subcontractors on Bardsley sites were told about the firm's demise before staff.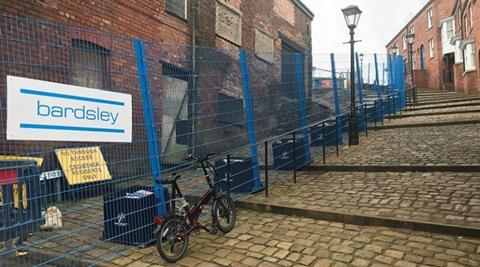 In its last set of results filed at Companies House, Bardsley Group, which owns the other two businesses in administration, had a turnover of £68.6m and made a pre-tax profit of £340,000 in the year to December 2017. The firm had nearly £9m of cash in the bank.
Steven Muncaster and Stephen Clancy, the joint administrators at Duff & Phelps, said the business had run into a number of problems recently. Among them were "challenging market conditions including the timely delivery of a number of recent projects, resource issues within the sector, contractual disputes with private clients together with new work opportunities being delayed as a result of the uncertainty in the economic and political environment".
Muncaster added: "We were formally engaged in November 2019 to advise the group on its current financial position and to facilitate an accelerated merger and acquisition process or seek immediate investment to tide the group over into 2020, when a number of new orders are expected to come online.
"Despite a number of expressions of interest, no acceptable formal offers have been made for the group, leaving the directors with no option but to appoint administrators.
"The companies normally shut down over the Christmas period and, as such, this timing will enable us to undertake a further review of the financial position of the group while marketing the business and assets for sale. We will be working solidly over the holiday period to facilitate this."
Bardsley worked across a number of sectors including education, hotels and leisure, office and retail as well as residential. Schemes it is currently working on include a residential job at Gorton Lane in Manchester as well as new construction skills centre for Tameside College.
The firm had also just been appointed to a £130m framework contract for Sheffield-based social housing consortium EN Procure to build schemes of 70 units or more across the Yorkshire and Humber region.
The news caps a bleak year for well-known regional contractors. Swansea firm Dawnus, West Midlands contractor Shaylor, Cheshire firm Pochins and Lincoln builder Simons all collapsed into administration during 2019. Scunthorpe contractor Clugston went under earlier this month.