Long awaited consultation sets out some further details of offsetting system but key issues remain undecided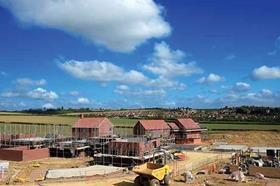 The government has unveiled its long awaited framework for the off-site measures housebuilders will be permitted to use to meet the 2016 zero carbon standard, but put off a decision to name the price at which carbon can be offset.
The Department for Communities and Local Government (DCLG) published a document yesterday setting out its next steps on the so called 'allowable solutions' larger developers can use to achieve carbon reductions more cost-effectively than via the building fabric or on-site energy generation.
As revealed by Building last month, it confirms that larger developers will only have to build to level 4 of the energy standard laid out in the Code for Sustainable Homes if they use off-setting measures to plug the emissions shortfall.
To address any resulting gaps between dwellings' on-site emissions and their zero carbon requirements, DCLG has confirmed that housebuilders will be able to mix and match a suite of solutions.
This takes forward the approach outlined in the department's consultation paper on allowable solutions, which was published last year.
It says builders will be allowed to tackle any shortfalls through their own off-site carbon abatement measures, such as retrofitting existing buildings.
Other options include contracting with a third party to deliver off-setting measures or paying into a fund for investing in such projects.
DCLG has ruled that the framework for allowable solutions will be set via building regulations at a national rather than a local level in what it describes as a bid to promote greater consistency. Local councils' role will be limited to certifying the off-setting measures used by developers.
However, with the zero carbon standard due to come into force in just two years, the document shows there is still a lot of detail to be fleshed out. On the actual solutions developers will be able to use, it says the government is yet to make up mind on whether to set out a statutory list or a set criteria.
DCLG has delayed a decision on the maximum price per tonne of carbon that should be made into any off-setting fund, explaining that 'further analysis' is needed before this cap can be fixed.
The document also says there will be further consultation on how the exemption from zero carbon requirements for small housing sites, announced in the recent Queen's Speech, will be implemented.
Sustainability consultant Neil Cutland expressed concern about the missing detail. "There's still too much detail lacking. If this is really going to happen in 2016, we should have more detail," he said.
He also said that the creation of a national framework for affordable solutions could act as a break on the growth of community energy funds which he believed would have the greatest appeal for home owners.