Committee on Climate Change says it sees "no rationale" for letting small developments off the standard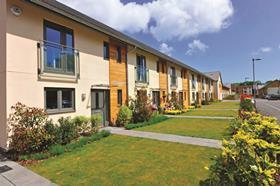 The government's own climate watchdog has slammed the plan to exempt small housing developments from the zero carbon homes standard when it is introduced in 2016 and urged it to scrap the proposal.
The government has a long standing commitment to introduce regulations to ensure that all homes built from 2016 are zero carbon.
However, in June the government announced that small developments would not be subjected to the standard.
Today, in its annual report on the government's green policy progress, the Committee on Climate Change said there had been "no rationale" provided for the policy change.
It said: "It is not clear why the economics of efficiency measures or low-carbon heating should significantly differ from larger developments. Therefore, this proposal should be dropped unless the government can show clear evidence of its value.
"More generally, the scope of the zero carbon homes policy has been changed a number of times in recent years. While policy changes can be justified in some circumstances, too frequent change creates uncertainty and can result in badly designed policies, and should therefore be avoided in future."
It also said that progress on increasing the energy efficiency of the UK's existing buildings stalled last year.
The committee said that there had been a "significant reduction" in the roll out of loft and cavity wall insulation.
It concluded that "insufficient" incentives for the "complex" Green Deal scheme had caused the fall in installations and halted the "good progress" made in 2012.
The committee also said the Green Deal's sister scheme, the Energy Companies Obligation, should have its targets for the period to 2017 increased to help make up the shortfall.
It added that the Green Deal Home Improvement Fund, which was launched in June 2014 to pay cash incentives to people taking up energy efficiency measures in their homes, should be extended to 2017.
Lord Deben, chair of the Committee on Climate Change, said: "The UK is still not on track to meet our statutory commitment to cut emissions by 80%. The longer we leave it, the costlier it becomes."
Paul King, chief executive of the UK Green Building Council, said there had been an "unravelling of the previous good work on home energy efficiency".
He said: "This is ironic given that carbon reduction in buildings is not only the most cost effective way of tacking climate change, but it also protects both households and businesses from soaring energy bills.
"Time is running out for the current government to grasp this and to deliver on crucial policy areas such as zero carbon homes and minimum energy performance standards in commercial buildings."
A spokesperson for the Department of Energy and Climate Change, said: "We are not complacent and realise there's more work to done as we keep up the momentum towards a low carbon economy while also ensuring we minimise the impact on consumers' bills."