Scheme in Essex to begin again next month
Schemes that were being carried out by stricken contractor Simons Group have now found replacement builders including a £17m cinema job in Essex.
The Lincoln-based firm went into administration at the end of October after more than 70 years in business, leaving several jobs in the lurch. It had been chosen by Basildon council to build a leisure project including a cinema and six restaurants, designed by Pollard Thomas Edwards.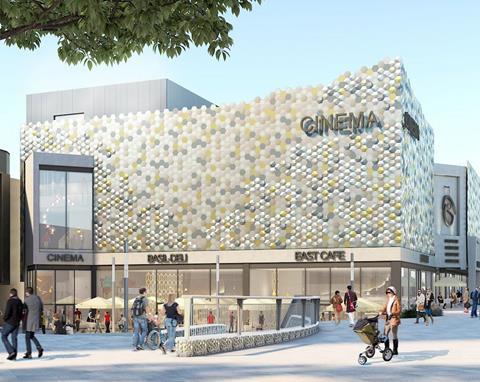 The council said that it had now appointed McLaren, a beaten bidder in the original contest, to finish the project (pictured) in the Essex town. Following Simon's collapse, Essex demolition firm Squibb was forced to stop work but the job will now restart next month.
The council said it had appointed McLaren directly, rather than through another publicised competition, because running a new contest would have delayed the restart until next July.
It added that if the job, known as East Square, is not finished on time, the authority will be in line to lose £1.5m. The scheme is scheduled to complete in April 2021.
In a notice on the Official Journal announcing McLaren's appointment, the council said that Simons' collapse had been "unforeseeable".
It said: "On the basis that the successful applicant [Simons] appeared by all objective standards to be of good commercial health, entirely capable of performing the contract and scored well in a high threshold financial due-diligence assessment, it follows that their sudden administration was unforeseeable."
Work has also restarted on a north London shopping centre caught up in the Simons collapse.
Farringdon-based Red Construction, which has a turnover of £15m, will complete the £8m revamp of the Angel Central shopping centre off Upper Street in Islington.
The expansion of the CBRE-owned shopping centre includes a new link bridge and lighting scheme.