26-storey scheme by FaulknerBrowns will harm historic city centre setting, councillors admit
Newcastle city council has approved a 26-storey residential tower despite acknowledging it will harm the setting of nearby historic structures, including the grade I listed Town Walls.
The FaulknerBrowns Architects-designed block, earmarked for the site of a derelict warehouse on Rutherford Street in the city centre, was praised by planning officers for its "bold, contemporary and exciting" statement that would result in a landmark building.
But both government heritage adviser Historic England and the Newcastle Conservation Advisory Panel said the proposals – which would deliver 162 flats targeted at the private-rented sector – would have a damaging impact on nearby listed buildings.
And council planning officers accepted the harm the block would cause – but insisted the impact would be "less than substantial", meaning that it did not outweigh the benefits of the scheme in planning-policy terms.
"There is therefore a strong presumption against planning permission being granted and this presumption has been given considerable importance and weight by officers in reaching their recommendation to approve the scheme," they said.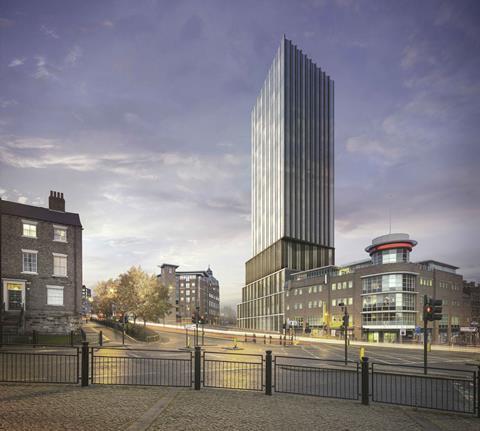 Councillors were told that benefits of the scheme would include bringing the site back into use, providing new housing, delivering council tax and New Homes Bonus income, supporting local businesses and public-realm improvements connected to the approval.
The Rutherford Street site is next to the dome-topped Grade II-listed Co-operative Print Works building, around 60m from the Town Walls, and near the grade II-listed Charlotte Square and the restored 13th Century Blackfriars Dominican Priory, which is grade I listed.
Historic England concluded: "The tower would intrude upon the setting of each asset, causing a slight to moderate degree of harm to their significance."
But FaulknerBrowns partner Paul Rigby said the practice was "extraordinarily proud" of the Rutherford Street block's design and of councillors' decision to approve the proposal.
"We believe this development will create a positive landmark for the city, representative of its ambitious and forward thinking outlook," he said.
Andrew Rennie, managing director of developer Citygrove, said the tower would give a "new lease of life" to a derelict brownfield site in the city centre.