Firm has over 3,500 employees in UK
Arcadis has said it has stopped hiring people because of the coronavirus outbreak.
In a stock exchange announcement, the Dutch consultant said it set up a global covid-19 taskforce earlier this month and added: "The impact of the outbreak was initially limited to the Arcadis business in China and Hong Kong. Since the virus has now spread around the world, it will adversely impact our markets and it requires the additional measures we are taking."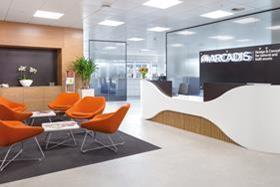 It said these included a global ban on bringing in new staff and withdrawing a proposed dividend payment. It is also stopping a current share buy-back initiative.
It has already put a halt to travel, cut back the number of external consultants it uses and suspended all uncommitted capital expenditure.
The firm, which employs 3,700 people in the UK and 28,000 globally, said it was also reviewing opportunities to apply for government support in countries which provide it.
Arcadis chief executive Peter Oosterveer said: "The prosperity and safety of our societies is being challenged and everyone realizes that it will take a considerable amount of time and effort to allow us to resume 'life and business as usual'."
The firm's AGM is currently scheduled for 6 May.